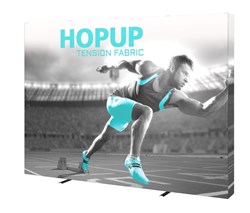 One of our perennial best-sellers – the Hop Up Tension Fabric Display – is now even better with a slew of improvements. - APG President Matt Baron
Grayslake, IL (PRWEB) October 22, 2013
One of the top tension fabric trade show displays on the market – the venerable Hop Up display – recently got a near-complete hardware overhaul in an effort to stay at the top of a crowded industry segment. The improved Hop Up display, a long-time favorite among APG Exhibits customers of all types and sizes, can now boast upgrades and refinements across the entirety of its hardware set-up.
APG Exhibits President Matt Baron explains, "We are proud to say that one of our perennial best-sellers is now even better with a slew of improvements designed to make the unit lighter and more durable over the long-term. Somehow the best just got better."
The list of upgrades for the Hop Up display hardware is substantial and includes the following:

Locking arms made with much less plastic
Included stabilizer feet for all straight units 7.5' tall and up, for added balance
Larger, more stable wheels on the included carry bag
Newly designed screws that connect scissor sections to hubs that are shorter and provide tighter tolerances as well as less wear on the hubs
Upgraded webbing for the hardware
More sturdy handles for the included carry bag
Despite the scope of the upgrades, the Hop Up display is now actually 25% lighter and can also fit into smaller hard shipping cases (optional), which will lead to easier transport and significantly reduced freight costs. To top everything off, the new units are priced exactly the same as their older counterparts, and are still backed by a lifetime warranty against manufacturing defects.
Baron continues, "The fact that we can provide such a massively improved product at no additional cost to the client seems to suggest that the Hop Up display will continue to be at the top of the tension fabric display world for a long time to come."
For more information about APG Exhibits or the many benefits of the new Hop Up display hardware, please contact APG Exhibits at 866-752-2192, or use the email link provided.
...
APG Exhibits is a premier online provider of trade show displays, outdoor exhibits, custom booths, promotional giveaways, custom banners and more. APG Exhibits' mission is to provide high-quality trade show display products and outstanding customer service at the guaranteed lowest prices. Contact Customer Support at 866-752-2192 or visit apgexhibits.com for more information.