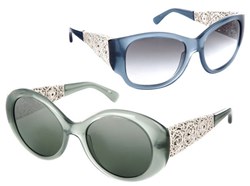 Chula Vista, CA (PRWEB) October 23, 2013
Otay Ranch Eyeworks, an eye doctor office in Chula Vista, has been chosen to be one of only 10 retailers in California to offer the exclusive Bijoux collection of sunglasses and eyeglass frames from Chanel. The new line of eyewear is popular with patients who prefer the most exclusive styles.
The highlight of the Chanel Bijoux collection is intricate metalwork on the frame arms featuring emblematic Chanel symbols like the double C, the clover, and the camellia. Lens colors are available in Graduated Grey to Brown, which accentuate the striking frame colors. The sunglasses protect the wearer with UVA, UVB and UVC filters on all lenses that block 100% of harmful rays.
Those interested in the new collection can schedule an appointment or drop in to the Otay Ranch Eyeworks office, which is open 7 days per week. And as we are reaching the end of the year, Otay Ranch Eyeworks reminds individuals that eyeglasses, prescription sunglasses, or contacts are a great way to use any extra money left in their flexible spending account (FSA).
About Otay Ranch Eyeworks
Otay Ranch Eyeworks is an optometrist office located in Chula Vista, CA at the corner of Eastgate Parkway and Birch Road. They focus on thorough eye exams and the latest styles of eyeglasses and sunglasses with frames from more than 30 designers.