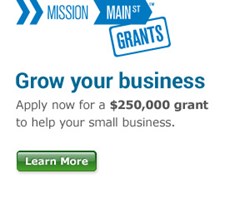 New York, NY (PRWEB) October 22, 2013
Mission Main Street Grants (SM) from Chase will award 12 grants of $250,000 to small businesses across America. All businesses that apply for a grant and meet the eligibility requirements will gain access to a Social Media Toolkit and receive a special advertising offer from Premier Sponsor, Google. In addition, the 12 grant recipients will be eligible to receive a trip to Google for an exclusive small business marketing workshop with Google experts and a Google Chromebook Pixel computer.
Through October 31, any for-profit business that has been engaged in current business activity for at least two consecutive years, has less than 100 year-round, full-time employees and meets all other eligibility requirements may apply. Businesses must receive at least 250 votes to be eligible for a grant. Consumers can show support by voting for their favorite participating small businesses at http://www.MissionMainStreetGrants.com using Facebook Connect.
To help drive small business participation, Chase garnered the support of a diverse group of organizations with a passion for small business, as well as award-winning small business mentor and CEO of Ali International, Ali Brown. Brown will serve on the panel of experts to review this year's applications and select the grant recipients. Mission Main Street(SM) Grants recipients will be announced in January 2014.
About Expert Panelist Ali Brown and Her Tips for Small Businesses
Since launching her first venture in her New York City studio apartment in 1999 and at one point with less than $20 in her bank account, Brown has created a dynamic enterprise that is devoted to coaching and mentoring small business owners through workshops, online training, private consulting and more. Brown was named one of Forbes' Women to Watch and her business has been ranked on the Inc. 500 list of fastest growing companies.
"I'm excited to be a part of Mission Main Street (SM) Grants and share my tips with small businesses across the country," said Brown. "As a business owner and mentor, I know how important it is to get capital to grow a successful business and make a positive impact on your community."
Media can visit Brown's website and http://www.magicbulletmedia.com/MNR/MissionMainStreet/ for more information, images and a video featuring tips including:

The three keys to growing a moneymaking business right now.
The biggest mistake small business owners make when trying to grow.
How to engage customers and create followers using social media.  
About Chase and Small Business
In September 2013, Chase launched Mission Main Street (#MissionMainSt), a campaign that celebrates growing American businesses and raises the profile of select entrepreneurs to help inspire others.
The #1 SBA lender by approved units for three years running, Chase is offering limited-time lending offers to qualified borrowers on SBA and conventional loans and lines of credit now through Dec. 13, 2013. Businesses interested in using credit for expansion, working capital, or to purchase equipment or owner-occupied real estate, should contact a Chase Business Banking or Middle Market banker or visit http://www.chase.com/business.