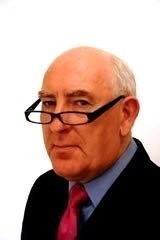 When one door closes, another 20 open. The only way up is FORWARD.
San Jose, CA (PRWEB) December 03, 2013
People First Productivity Solutions, a San Francisco Bay Area sales training and consulting company, brings Dr. Jonathan Farrington to listeners on December 7. In this broadcast of CONNECT! Online Radio Show for Professional Sellers, Dr. Farrington will tackle the question: "Selling in 2015 -- Will You Make It? Only 20% Will." Dr. Farrington is a globally recognized business coach, mentor, writer and sales thought leader, as well as the founder of Top Sales World, the hypermarket of selling resources for the global sales community.
Formerly, Dr. Farrington was the Managing Partner of The jfa Group. During the period 1994 to 2006, he personally coached more than 100,000 frontline sales professionals and sales leaders. Prior to that, he held several board level appointments working with a number of the most successful international corporations including: IBM, Wang, Legal and General, Andersen Consulting, Litton Industries and The Bank of Tokyo. Dr. Farrington is now the Senior Partner at Jonathan Farrington & Associates and the creator and CEO of Top Sales World, and he is based in London and Paris.
He will speak with Deb Calvert, President of People First Productivity Solutions and host of CONNECT! Online Radio. As they discuss the changing economy, evolving buyer's habits and new business practices, they will challenge sellers to open up to the reality that the profession of selling is radically changing. To be successful, sellers must adapt to the dramatic changes and heed this wake-up call. Profound changes are on the horizon, and sales professionals will gain the upper hand by listening to this important discussion.
To tune in on Saturday morning at 9:00 a.m. Pacific Time, please visit blog talk radio.
This program will also be available for download at Connect1 on iTunes or at the link above after the broadcast. You can listen to the archived recording of this broadcast as well as tuning in to hear a variety of topics and guests previously featured on the program. To access the archives, go to People First Productivity Radio Shows.
CONNECT! Online Radio Show for Selling Professionals, part of the CONNECT! Community by People First Productivity Solutions, is a bi-weekly broadcast provided to help sellers "Ignite their Selling Power in Just an Hour." The CONNECT! community provides discussion groups, books, blogs and other resources for selling professionals, leaders and emerging leaders, trainers, coaches and individuals. Founded in 2006 by former corporate Sales and HR Executive Deb Calvert, People First Productivity Solutions operates with the mission: "We Build Organizational Strength by Putting People First."