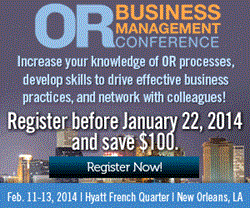 "Attendees will learn from both expert speakers and their peers during this lively, information-packed event."
Rockville, MD (PRWEB) October 23, 2013
Changes in healthcare laws have made it critical to manage the operating room as efficiently and cost-effectively as possible. Today's OR leaders must balance shrinking budgets with complex surgical procedures that require highly competent staff and often expensive equipment. Resource costs, overhead, professional fees, and other costs are among the variables that make optimal business management particularly challenging. The OR Business Management Conference is designed to provide the education and training that will help OR directors and business managers make the best use of their resources.
The opening keynote will be presented by Dr. Michael Hicks, MSMD, MBA, CEO, EmCare Anesthesia Services and is entitled, "The Future of Perioperative Medicine." This keynote presentation will look at how staffing models, care models, and even business models will have to change to adapt to growing needs of hospitals, patients, physicians, surgeons and mid-level providers.
The agenda is now available and includes interactive sessions such as:

What Gets Measured Gets Done: Using Key Measures to Understand and Improve Surgical Services Performance
5 Steps to Surgical Success
Improving OR Efficiency through Surgeon Scorecard Use
Using Operations Research Techniques to Improve Perioperative Patient Flow
Lean Principles and Tools for Perioperative Supply Management
Managing Surgical Supply Expense: Engagement at All Levels and Using Data Effectively
Evolving Imaging in the OR: Hybrid OR
And more!
To see the full conference agenda, visit http://www.ormanager.com/managementconference. In its third year, the conference has been expanded to include three days of sessions with experts who will help attendees develop analytical/critical thinking skills and gain a better understanding of cost components and financial strategies to streamline the OR. "Our program offers practical tips for a very diverse audience," says Elizabeth Wood, editor of OR Manager. "Attendees will learn from both expert speakers and their peers during this lively, information-packed event."
Attendees will have the opportunity to work on projects during group breakout sessions to problem-solve and develop strategic planning skills. The 2014 OR Business Management Conference will take place February 11-13, 2014 at the Hyatt French Quarter Hotel in New Orleans. Attendees will also receive contact hours for their attendance. Register by January 22 and save an extra $100 on registration.
For more details, please visit http://www.ormanager.com/managementconference.
About OR Manager
OR Manager, an Access Intelligence company, provides news and information for perioperative directors and managers, OR business managers, and other decision makers in the surgical suite through the monthly OR Manager publication, the digital OR Reports, the OR Manager Conference, webinars, books, and other publications.
###