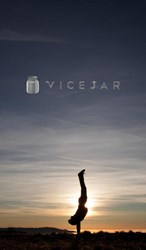 It's a win-win situation. You're motivating yourself to change your life, and you're developing good financial habits by saving money.
Los Angeles, CA (PRWEB) October 22, 2013
New iPhone app VICEJAR is now available for download from the Apple App Store. Jackson Quach, founder and CEO of VICEJAR, says the app brings together the latest in mobile and social technology to create a personal goal management tool that's more effective and easier to use than any other.
"VICEJAR is a digital reimagining of the classic swear jar," Jackson says. "You set an ongoing goal for yourself, and each time you slip up, you have to put a little money in the jar, which acts like a savings account to reward you once you've achieved your goal." The app is designed to help motivate users to modify their lifestyles and behaviors. Whether you're trying to train for a marathon, quit smoking, eat healthier, or anything else, VICEJAR can help you get there, while giving you the opportunity to develop good financial habits in the process, Jackson says. "The goal can be anything, but the outcome is the same—you either behave or save."
The initial concept for VICEJAR emerged from Jackson's personal experience. "I've always tried to eat healthy, but for a while I had a huge problem with junk food," Jackson says. "To kick the habit, I forced myself to put a dollar in a jar every time I ate something unhealthy. After a few months, I learned something uncomfortable about myself—I ate a lot more junk food than I realized. Seeing those dollars in the jar made it real for me, and even though the money wasn't much—just a dollar every time—it gave me the motivation I needed to change my eating habits."
VICEJAR takes this approach to lifestyle transformation and makes it fast, easy, and fun. "With VICEJAR, you set a goal, and then set the stake—how much money you'll give up each time you fail. That's all there is to it," Jackson says. "It's a win-win situation. You're motivating yourself to change your life, and you're developing good financial habits by saving money."
Users of the app can invite friends to serve as regulators. "A regulator is a friend or family member who keeps you accountable," Jackson says. "When a regulator sees you slip up, he or she can make you pay—regulators have the ability to forfeit your stake on your behalf. This kind of social pressure is key to kicking bad habits and establishing new ones."
The app allows for complete flexibility and customization. For fitness goals, data can be recorded manually or using the built-in GPS. Users can dynamically plan goal days and rest days with the touch of a button, allowing goals to be adjusted and improved on the fly. Jackson says future updates will aim to bring a more native input experience to other goal types as well.
"We set out to create the easiest tool available to help people modify their lifestyles and behavior," Jackson says. "VICEJAR lets you put your money where your mouth is, grow your savings, and get your friends involved."
Learn more at THEVICEJAR.com, or download VICEJAR from the Apple App Store.