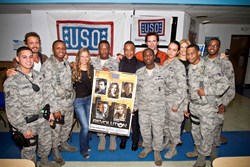 "I had a blast!" said Esposito. "People were lovely and it's great to do this USO stuff, because when I grew up there was Bob Hope and his USO shows were always fantastic..."
Arlington, VA (PRWEB) October 22, 2013
Twitter Pitch: @the_USO @NBCRevolution tour feat. @Billy_Burke, @TrSpiridakos, @Quiethandfilms, David Lyons & Elizabeth Mitchell visits San Antonio
Stars from Warner Bros. hit series Revolution volunteered with the USO on Saturday, October 19, and delivered smiles, hugs and support to troops and military families stationed in San Antonio, Texas. Currently on location in Austin filming season two of the epic, swashbuckling TV drama, actors Billy Burke, Tracy Spiridakos, Giancarlo Esposito, David Lyons and Elizabeth Mitchell paid a USO visit to Lackland Air Force Base and Fort Sam Houston, where they shared special moments with service members and their families, posing for photos and signing autographs. ***Link to USO photos below***
DETAILS:

As part of the USO experience, the group met with hundreds of military families stationed in and around San Antonio, Texas.
This trip marked the first USO experience for each of the Revolution castmates.
From J.J. Abrams' Bad Robot Productions and Supernatural's Eric Kripke, Revolution is a post-apocalyptic sci-fi drama series that centers around one family's struggle to survive 15 years after a mysterious worldwide blackout. Created by Eric Kripke and executive produced by Kripke, Abrams, Bryan Burk, Rockne S. O'Bannon and Jon Favreau, the series airs Wednesdays at 8/7c on NBC. Revolution is produced by Bonanza Productions, Inc., in associations with Bad Robot Productions, Kripke Enterprises and Warner Bros. Television.
Best known as Charlie Swan in The Twilight Saga and as Gary in the action series 24, Billy Burke currently plays Miles Matheson in Revolution on NBC. Acting since the early 1990s, he has starred in such films as Untraceable with Diane Lane, Fracture starring Anthony Hopkins and Ladder 49 with John Travolta, among others. On the small screen, Burke has appeared in Rizzoli and Isles, My Boys, Wonderland, Law & Order, Fringe and The Closer. Outside of acting, Burke is an accomplished musician who released his debut album, Removed, in 2010.
Born in Winnipeg, Manitoba, Tracy Spiridakos plays Charlie Matheson, the headstrong niece of Miles Matheson on Revolution. She has appeared in numerous television shows including Supernatural and Hellcats on The CW, USA's Psych, Syfy's Being Human as well as the Canadian tween comedy series Majority Rules! In addition to the small screen, she has also landed roles in such feature films as 2011's Rise of the Planet of the Apes and the upcoming thriller, Kill for Me.
Praised for his iconic portrayal of drug kingpin Gustavo "Gus" Fring in the critically acclaimed Breaking Bad, Giancarlo Esposito stars as military leader Tom Neville on Revolution. He has starred in more than 60 major motion pictures including The Usual Suspects, Smoke, The Last Holiday, Do the Right Thing, Mo' Better Blues, School Daze, Malcolm X and Ali. Esposito has also been seen on TV's Community, Homicide: Life on The Street and Law & Order as well as in Broadway's Sacrilege, Seesaw and Merrily We Roll Along just to name a few.
A graduate from the National Institute of Dramatic Art – Australia's most prestigious acting college – David Lyons plays former U.S. Marine Corps Sergeant Sebastian "Bass" Monroe on Revolution. He most recently starred in the film Safe Haven with Julianne Hough and Josh Duhamel, and just last year played Kate Beckinsale's husband in Blue Car featuring Nick Nolte. In 2008, Lyons was added to the cast of the popular medical drama ER as 'Dr. Simon Brenner.' His previous credits include Storm Warning, the Outback thriller Cactus and Eat, Pray, Love opposite Julia Roberts.
Nominated for an Emmy® for her role as Juliet on Lost, Elizabeth Mitchell currently portrays Rachel Matheson on Revolution and previously starred on the Warner Bros. sci-fi series V. Whether portraying Mrs. Clause opposite Tim Allen in Disney's The Santa Clause trilogy or time-traveling with Dennis Quaid in Frequency, Mitchell has been featured in a string of hit films including Gia with Angelina Jolie, Answers to Nothing opposite Dane Cook, Nurse Betty starring Renee Zellweger, Running Scared starring Paul Walker and ESPN's The Dale Earnhardt Story. Mitchell was also featured in NBC's critically-acclaimed Lyon's Den and as on John Wells' landmark medical drama ER.
QUOTES:
Attributed to Billy Burke:
"We were all humbled and honored to be able to spend some time with the San Antonio military community. Many thanks the USO, who does such tirelessly noble work. We hope they'll have us back soon and often."
Attributed to Tracy Spiridakos:
"I had such a great time on my USO trip to Lackland and Fort Sam Houston. The troops and their families are so amazing, and there was such an outpouring of support for the show and our characters. It was an honor to be there with the USO and the rest of the cast, and be given the chance to say 'thank you' for their service."
Attributed to Giancarlo Esposito:
"I had a blast! People were lovely and it's great to do this USO stuff, because when I grew up there was Bob Hope and his USO show which was always fantastic. These people are in service to all of us and it's nice they can come down and put a name to a face and meet some of their favorite people from their favorite show. It was really a great time, thanks for having us!"
Attributed to David Lyons:
"As a former U.S. Marine on the show, this USO trip was especially memorable. I'm just an actor who portrays a service hero on TV, but they are the real thing. And to have had the chance to talk to them, hear their thoughts about the show as well as extended my gratitude was more than anything I could have hoped for."
Attributed to Elizabeth Mitchell:
"Our USO trip to San Antonio was incredibly exciting. As a parent of a young child, I have such a profound respect for our nation's military families. They often sacrifice time away from those they love, and do so while maintaining our security. These families deserve acknowledgement and praise for their efforts, and I'm honored to have expressed mine with help from the USO and hope to have helped boost their morale in the process."
MULTIMEDIA:
USO Photos: http://bit.ly/15HHWyt
USO Fact Sheet: http://bit.ly/Y3YoUi
###
About the USO
The USO lifts the spirits of America's troops and their families millions of times each year at hundreds of places worldwide. We provide a touch of home through centers at airports and military bases in the U.S. and abroad, top quality entertainment and innovative programs and services. We also provide critical support to those who need us most, including forward-deployed troops, military families, wounded warriors and families of the fallen. The USO is a private, non-profit organization, not a government agency. Our programs and services are made possible by the American people, support of our corporate partners and the dedication of our volunteers and staff.
In addition to individual donors and corporate sponsors, the USO is supported by President's Circle Partners: American Airlines, AT&T, Clear Channel, The Coca-Cola Company, Grand Canyon University, jcpenney, Jeep, Kangaroo Express, Kroger, Lowe's, Northrop Grumman Corporation, Procter & Gamble and TriWest Healthcare Alliance and Worldwide Strategic Partners: BAE Systems, The Boeing Company, Lockheed Martin, Microsoft Corporation and TKS Telepost Kabel-Service Kaiserslautern GmbH & Co. KG. We are also supported through the United Way and Combined Federal Campaign (CFC-11381). To join us in this patriotic mission, and to learn more about the USO, please visit uso.org.