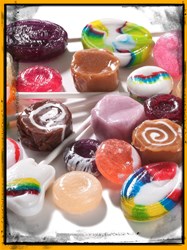 Grand Rapids, MI (PRWEB) October 29, 2013
Dr. John's Candies offers healthier, sugar-free candy as alternatives to trick-or-treaters this Halloween. Dr. John's Candies, a Michigan company, has been producing best-selling, sugar free candy in the United States since 1995 -- when the healthy candy treats were first introduced at the American Dental Association Annual Meeting. Since then, Dr. John's has been developing new candy products for consumers and dental practices. The candies have become a popular choice for those seeking a healthier, dental-friendly alternative, especially during the biggest candy fest of the year: Halloween.
It is estimated that the average American consumer will consume up to 1.2 pounds of candy during Halloween time. Dr. John's philosophy is that candy should be a part of the tradition. But, by choosing the healthier options for trick-or-treaters this year, that statistic will be not so cringe-inducing. Kids will still love going door-to-door to collect the treats, and they can enjoy a sugar free candy alternative that still tastes great without the negative effects sugar plays on their health.
Dr. John's Candies has been developing a wide variety of candy products that include tooth shaped lollipops, hard and soft candies, chocolates, drink mixes, sweeteners, and gum. Sweetened with xylitol, the natural extract of the birch tree, the candies are colorful and delicious without the bad aftertaste many sugar-free products contain. Xylitol is proven to effectively prevent tooth decay rather than promoting it in the way sugar does, according to A Double-blind Randomized Clinical Trial of Efficacy.
Dr. John's Candies feature everyone's favorite flavors – from classics like cherry, grape and peppermint, to on-trend modern choices like mango, pomegranate, and cherry blossom. Options are also available to accommodate special dietary needs of children and adults with candy selections that are sugar-free, gluten-free, dairy-free and vegan, as well as free of artificial flavors, colors and sweeteners. Delightfully enough, these candies are packed with all the flavor of regular candies!
For parents, teachers, and friendly neighbors, swapping sugary candy for Dr. John's Candies will promote better dental health. Additionally, healthier dietary habits can improve overall health. Whether you are shopping for kosher gourmet lollipops, hard candies or soft candies you'll find what you need in bags as small as 6.3 ounces or as big as five pounds.
Orders can be completed conveniently online by visiting http://www.drjohns.com.
For more information, please contact:
Debra Bruinsma, debra(at)drjohns(dot)com, 888-375-6462