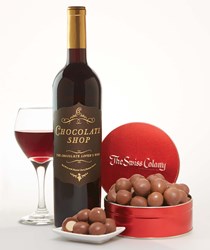 Chocolate, nuts and wine always make great gifts.
(PRWEB) October 23, 2013
When it comes to ordering gifts online, Swiss Colony and Wine.com have a winning formula. That's why the two companies paired up ahead of the holiday gift-giving season to launch their exclusive gift packages now available at http://www.swisscolony.com.
The Swiss Colony offers 12 of their most popular food items along with wine varietals that the Wine.com team specifically chose to pair perfectly with premium chocolates and nuts.
Prices range from $34.99 to $54.99 and the site will have seasonal offerings that rotate throughout the year. For the upcoming Christmas season, Swiss Colony's famous Christmas cookies are featured in a pairing called "Cookies and Cuvee" for $44.99 along with a bottle of Kenwood Yulupa Cuvee Brut from California.
Swiss Colony's VP of Food, Becky Henke, approached Wine.com about the partnership because it is the nation's top online wine retailer, offering thousands of wines, wine gifts, gift baskets, corporate gifts and monthly wine clubs.
"Chocolate, nuts and wine always make great gifts," says Henke. "Both of our companies are leaders in offering unique edible gifts at great prices, so it made sense to offer new choices for our valued customers."
The Truffles & Bubbles ($34.99) gift combines Swiss Colony's decadent milk chocolate truffles with a pretty bottle of Caposaldo Sweet Red Sparkling Wine with floral and berry aromas.
Chocoholics will enjoy Chocolate Lovers Delight ($39.99) that showcases Swiss Colony's macadamia nuts coated in milk chocolate and a decadent bottle of Chocolate Shop Chocolate Red Wine with hints of black cherry and cocoa powder.
For any occasion, the Mixed Nuts Deluxe Duo ($54.99) features an array of colossal mixed nuts including cashews, almonds, Brazil and hazelnuts. Two Parducci wines maximize the impact of this gift - a premium Chardonnay and Cabernet Sauvignon.
To see the entire line up of Swiss Colony's food and wine pairings, along with the company's traditional and novelty offerings including baked goods, chocolates, candies, meats and cheeses, shop online at http://www.swisscolony.com.
About The Swiss Colony
The Swiss Colony is a family-owned Wisconsin company that has been creating food gifts for more than 87 years. The company insists on the highest quality ingredients for a large selection of festively packaged gifts for every occasion. Exclusive recipes developed by European Master Bakers and hand-decorated novelties like no other are just two of the reasons customers include The Swiss colony as part of their holiday traditions year after year.