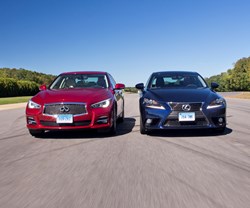 The Infiniti G has been one of Consumer Reports' highest-rated sedans for many years, but after its 2014 redesign and transition to the new Q designation, this car seems to have lost its way.
YONKERS, NY (PRWEB) October 22, 2013
Two promising upscale sedans, the redesigned Infiniti Q50 and Lexus IS 250, fell short in Consumer Reports' tests and wound up near the bottom of the rankings—below competitors from BMW, Mercedes-Benz, Lincoln, and Volvo.
The Q50 was intended to replace the G37 in Infiniti's lineup, but it has taken a step back from its excellent predecessor. "The Infiniti G has been one of Consumer Reports' highest-rated sedans for many years, but after its 2014 redesign and transition to the new Q designation, this car seems to have lost its way," said Jake Fisher, director of automotive testing for Consumer Reports.
The Infiniti Q50 posted a "Very Good" overall road test score but still landed near the bottom of the rankings for sporty and upscale sedans. The IS 250 scored merely a "Good." It was the worst road test score posted by any Lexus sedan in recent memory. Other competitors posting higher overall road test scores include the BMW 328i, Mercedes-Benz C250, Lincoln MKZ 2.0 EcoBoost and Volvo S60 T5.
CR's engineers and editors found that the Q50 isn't as much fun to drive as the G37. Handling is mundane, due in part to dull steering. The underwhelming driving experience strips the car of much of its sporty legacy. The Q50 also doesn't ride well and isn't particularly quiet. Its new InTouch dual-screen controls are slow to respond, and interior quality is nothing special. On the plus side, the Q50 is very quick, even with the added weight of the optional all-wheel-drive system.
Consumer Reports' testers found the Lexus IS 250 is neither sporty nor luxurious. CR purchased and evaluated the IS 250 with the small 2.5-liter V6 because that is the model most consumers will buy; the test vehicle is also fitted with all-wheel-drive, a popular option. In that trim, the vehicle's acceleration lacks punch. Fuel economy is disappointing at 21 mpg overall in CR's own tests.
The Lexus IS handling is short on finesse, with vague-feeling steering that doesn't telegraph much feedback. Road noise is elevated and the ride is neither plush nor tied-down. The interior is very tight, even when considered against the modest standards for sports sedans, with a narrow cabin, wide center console and large overhanging dashboard. In addition, the IS 250's controls now include the fussy, distracting mouse-like controller found in other Lexus models.
Neither the Q50 and IS 250, can be Recommended. Although the Q50 scored reasonably well, it's still too new for CR to have reliability information. The IS 250 scored too low to be Recommended; CR also doesn't have reliability data on it because it's new. To be Recommended, a vehicle must perform well in CR's battery of tests, have average or better reliability in CR's Annual Auto Survey and perform well in government and industry crash tests.
Complete tests results for the Infiniti Q50 and Lexus IS250, as well as results of the new Fiat 500L and Nissan Versa Note appear on http://www.ConsumerReports.org today, and in the December issue of Consumer Reports, on newsstands November 5. Updated daily, ConsumerReports.org is the go-to Website for the latest auto reviews, product news, blogs on breaking news, and car-buying information. Check out CR's ongoing Twitter feed at @CRCars.
Consumer Reports is the world's largest independent product-testing organization. Using its more than 50 labs, auto test center, and survey research center, the nonprofit rates thousands of products and services annually. Founded in 1936, Consumer Reports has over 8 million subscribers to its magazine, Website and other publications. Its advocacy division, Consumers Union, works for health reform, food and product safety, financial reform, and other consumer issues in Washington, D.C., the states, and in the marketplace.
— 30 —
Note to the media: Consumer Reports has still images and B-Roll from its test track available upon request of the Lexus IS 250 and Infiniti Q50.
DECEMBER 2013
© 2013 Consumer Reports. The material above is intended for legitimate news entities only; it may not be used for advertising or promotional purposes. Consumer Reports® is an expert, independent nonprofit organization whose mission is to work for a fair, just, and safe marketplace for all consumers and to empower consumers to protect themselves. We accept no advertising and pay for all the products we test. We are not beholden to any commercial interest. Our income is derived from the sale of Consumer Reports®, ConsumerReports.org® and our other publications and information products, services, fees, and noncommercial contributions and grants. Our Ratings and reports are intended solely for the use of our readers. Neither the Ratings nor the reports may be used in advertising or for any other commercial purpose without our permission. Consumer Reports will take all steps open to it to prevent commercial use of its materials, its name, or the name of Consumer Reports®.