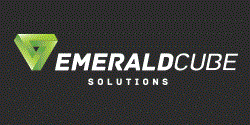 Atlanta, GA (PRWEB) November 12, 2013
EmeraldCube Solutions, an innovative provider of managed services and business intelligence solutions for JD Edwards customers in North America, is pleased to announce a new partnership with Netherlands-based Forza Consulting.
Forza Consulting will resell EmeraldCube's proprietary EmeraldPrism software throughout Europe.
EmeraldPrism is a monitoring and alerting tool that enables customers to predictably manage and maintain the infrastructure that supports their Oracle JD Edwards software, helping them avoid instability or service outages. In Europe, the tool will be sold under the brand name ForzaPrism.
Richard van de Bospoort, Managing Director of Forza Consulting, said, "We see significant demand for ForzaPrism in Europe. It will strengthen our ability to proactively monitor Oracle JD Edwards technology at customer sites, 24 hours a day, seven days a week. We are very excited to offer this product, which we believe to be the most comprehensive monitoring tool available for JD Edwards today."
The EmeraldPrism solution also provides customers insight and feedback on their JD Edwards investments. It analyzes key components of the technology infrastructure and compares them to JD Edwards' best practices, and gives customers a baseline for the health of their JD Edwards system.
"We chose to partner with and designate Forza Consulting as our exclusive EmeraldPrism reseller in Europe because of Forza's established reputation as the leading JDE European service provider. Forza product offerings complement EmeraldPrism and both companies share the same values for customer service excellence. We are excited to have Forza as a strategic long-term partner in Europe," said Marcelo Tamassia, Partner at EmeraldCube.
To learn more about EmeraldCube Solutions, Forza Consulting or EmeraldPrism, visit http://www.emerald-cube.com or http://www.forzaconsulting.eu
###
EmeraldCube Solutions is an Oracle Gold partner. The company's vision is to provide business clarity free of technology hassle. This vision unifies the purpose of two primary business areas, Business Intelligence and Managed Services. EmeraldCube's JDE team has over 50 years experience with JD Edwards implementations, upgrades, managed services and business intelligence projects.
Forza Consulting provides a complete set of services offering for Oracle JD Edwards Customer in Europe.
Forza is an Oracle Specialized Partner for Finance, Manufacturing, Distribution and CNC. With more than a decade of experience, Forza is leading in providing both functional and technical support for JD Edwards. Forza JD Edwards add on tools are world-renowned and are sold worldwide.
Contact: Todd Chromzak
info(at)emerald-cube(dot)com
1-855-ECS-24X7