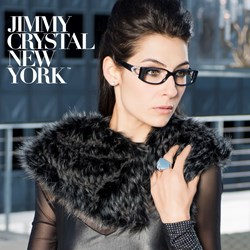 Carrollton, TX (PRWEB) October 24, 2013
A&A Optical announces the release of four new ophthalmic frames from luxury collection: Jimmy Crystal New York. The Jimmy Crystal designer eyewear collection is comprised of striking limited edition pieces reminiscent of a collector's item. Each style is unique and special, featuring hand set Swarovski elements. Jimmy Crystal New York was established in 1991 and is renowned for fashion-forward designs and superior quality accessories. The designer pieces include ophthalmic eyewear, sunglasses and reading glasses in acetate, metal and combinations.
Peacock Dreams. Fancy (http://aaopticalco.com/Jimmy-Crystal/Detail.aspx?frm=Fancy) complements a barely there rimless front with extravagant temple design. The modified oval frame features an etched feather pattern with a dazzling display of Swarovski Crystal flourishes. The metal frame is available in brown and navy. Size: 52-19-140.
Fine Foliage. Two toned Impulse (http://aaopticalco.com/Jimmy-Crystal/Detail.aspx?frm=Impulse) flourishes with a rich-colored, leafy, crystal pattern. The modified rectangle frame dazzles in black and brown. The black frame with white inside coloring thrives with a jet, light topaz and white crystal leaf pattern. The brown frame with orange inside color grows with smoky topaz and golden crystals. Size: 52-18-135.
Luxe Bloom. A garden of shimmering delight, Magnolia (http://aaopticalco.com/Jimmy-Crystal/Detail.aspx?frm=Magnolia) flowers with Swarovski crystal buds on the marbleized temples. Available in burgundy and gold, Magnolia features a pillowed eye shape. Size: 51-18-135.
Chic Geometry. Tuscany (http://aaopticalco.com/Jimmy-Crystal/Detail.aspx?frm=Tuscany) sparkles with a geometric eye shape and two toned crystal pattern on the marble like temples. The metal frame is available in black (with shadow crystals) and brown (with copper and light topaz colored stones). Size: 49-16-135.
Marketing: Each Jimmy Crystal frame is shipped with a suede frame pouch and hard case. Jimmy Crystal merchandising materials include a mirror accented with Swarovski crystals, crystal logo plaque, Jimmy Crystal display, and a 3-panel counter card featuring all three collections: ophthalmic eyewear, sunglasses and reading glasses.
Consult the latest A&A Optical Look Book (aaoqr.info/LB4) for ways to incorporate Jimmy Crystal sun and ophthalmic frames into a fashionable look for night or day.
ABOUT A&A Optical
Established in 1971, A&A Optical offers the ultimate selection of premium eyewear with nine established collections. Each eyewear piece is masterfully created with a focus on lifestyle, fit and quality. From unique, one of a kind looks to European inspired designs; A&A is dedicated to delivering the most innovative products and exceptional customer service to meet the growing demands of the optical dispensary and retailer. Steady company growth has enabled A&A Optical to expand its global product distribution to reach Optometrists, Ophthalmologists and eye care retailers throughout the United States, Canada, Latin America, Europe and the Caribbean.
A&A Optical Company brand portfolio includes house brands: XXL, Jalapenos, Cruz, Alexander Collection, and New Globe. Licensed brands include: Quiksilver, Roxy, Jimmy Crystal and Pez. For more information, contact A&A Optical at 800-492-4465 or visit http://www.aaopticalco.com.