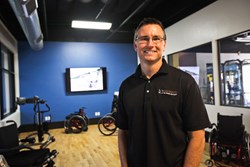 Partnering with Advanced Mobility Supply ensures all of our franchised centers will have the best mobility equipment and technology in the industry.
Carlsbad, CA (PRWEB) October 23, 2013
SCI Business Solutions Inc.®, the operator and franchisor of Project Walk® Spinal Cord Injury Recovery Center announces an exclusive partnership with Advanced Mobility Center, a well-respected mobility service provider with over 15 years of experience in mobility and home-safety related medical products.
Through this strategic partnership, clients of Project Walk franchises and people with disabilities requiring assistive devices will have immediate access to the latest technology in the mobility and home-safety industry just by visiting a Project Walk Center. In addition to state-of-the-art equipment, Advanced Mobility Center will also repair and service their products at Project Walk, making select Project Walk Centers a one-stop-shop for mobility users.
"It's debilitating when someone's (wheel) chair doesn't work. By setting up repair shops and showrooms in all of the Project Walk franchise locations, we are able to assist quickly and effectively, says Danny Jackson, President and CEO of Advanced Mobility. Jackson adds, "And by keeping true to the Project Walk mission, the majority of equipment and technology we will supply is based on helping people become less reliant on the actual hardware as they get back to becoming more reliant on their own bodies."
Project Walk, the world leader in spinal cord injury recovery, provides an improved quality of life by helping people gain their independence through intense activity-based recovery programs, education, training, research and development. With the addition of Advanced Mobility Center showrooms and repair shops, Project Walk clients will have an in-house full-solution mobility center while striving to move from power chairs to manual chairs and beyond.
"Partnering with Advanced Mobility ensures all of our franchised centers will have the best mobility equipment and technology in the industry," says, Tim Yates, SCI Business Solutions Inc., President and CEO.
Advanced Mobility Center elevates itself from competitors by providing superior customer service and face-to-face interaction. "It's nice to put a face with a name," says Jackson. "People can count on us to tap into our experience and properly recommend products based on the mobility or physical limitations of an individual." Jackson adds, "People have come to regard our company as offering some of the most popular brands including Colours and Tilite Wheelchairs. If we don't have it, we can get it for you."
Advanced Mobility Center opened their first showroom at a Project Walk center October 2013 at their Carlsbad location and has plans for additional showrooms at future franchise locations. This exclusive partnership looks to extend Project Walk's services that include facility recovery programs, home recovery options, wellness centers, and now mobility solutions.
The Project Walk brand is exclusively managed and operated by SCI Business Solutions, Inc. and consists of a global network of franchised and licensed locations encompassing both for and nonprofit businesses. Headquartered in Carlsbad, California, Project Walk has locations throughout the United States and worldwide, serving thousands of clients in over 30 countries, on 6 continents.