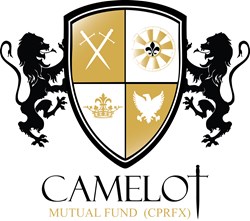 (PRWEB) October 22, 2013
Camelot Portfolios, manager of the Camelot Premium Return Fund, have just announced their 10th consecutive dividend payout of $0.13 or higher. Since the inception of the fund, investors have been able to receive consistent income payout thanks to an investment strategy that seeks to lower risk while generating income. With interest rates held at historically low levels over the past few years many investors have been forced to explore new income producing investment strategies such as selling options contracts; one strategy used by the team at Camelot.
The Camelot Premium Return Fund (CPRFX, CPRCX) was launched in late 2010 to offer a more sophisticated investment solution to clients that are income/cash flow focused. The Fund seeks to achieve a high rate of gains and total return through equity-based option writing strategies including cash-secured puts and covered calls. The premium the Fund receives from writing options potentially generates gains for the Fund. The Fund may also invest in dividend-paying or non-dividend-paying common stocks with market capitalizations of at least $1 billion.
The overall management philosophy is aimed at choosing investments that produce strong cash flow so that the overall portfolio will produce consistent and rising cash which we believe will result in solid long term total return with reduced volatility. The Fund currently has more than $28M in assets under management.
The use of options in almost any setting is typically available to only institutional investors or very high net worth individuals. As such, investors are encouraged to compare the expense ratio of the fund to similar funds rather than a plain vanilla large capitalization mutual fund.
Lipper categorizes the fund as Long/Short, a fair though not exact representation. The average fee for Long/Short funds according to the American Association of Individual Investors is 1.68%. Morningstar lumps Camelot Premium Return Fund into the Moderate Allocation category. Funds in this category have median fees of 1.22% according to Morningstar. However, these latter funds are also managed more akin to a balanced portfolio with a set amount toward stocks and bonds. They generally do not utilize options strategies and, therefore, have neither the same portfolio construction nor characteristics.
Camelot Premium Return Fund brings option strategies to retail investors with as little as $2,500 to invest for a net fee of 1.5%.
The team at Camelot Portfolios also offers a way to keep investors informed as the market environment continually changes. The company hosts a monthly call to update investors about current market conditions and to discuss new opportunities for clients looking to generate income. The calls give advisors the opportunity to ask important questions and give investors direct access to the Fund decision makers. Those interested in participating in a monthly call can do so by visiting http://www.CamelotFunds.com and submitting an RSVP through their Monthly Intro Call tab.
Investments in mutual funds involve risks. Investment return and principal value will fluctuate with changing market conditions so that when redeemed, shares may be worth more or less than their original cost. The fund has non-diversification risk, as the Funds are more vulnerable to events affecting a single issuer. Investments in lesser-known, small and medium capitalization companies may be more vulnerable than larger, more established organizations. There are risks associated with the sale and purchase of call and put options. The fund intends to write options on a significant portion of its portfolio. The options will generally have terms of three to six months resulting in proceeds being reinvested several times during the year. This can result in a higher level of portfolio turnover rate. There is no assurance that dividends will be paid.
Investors should carefully consider the investment objectives, risks, charges and expenses of the Camelot Premium Return Fund. This and other important information about the Fund is contained in the prospectus, which can be obtained at http://www.camelotfunds.com or by calling 855-226-3863. The prospectus should be read carefully before investing. The Camelot Premium Return Fund is distributed by Northern Lights Distributors, LLC member FINRA.