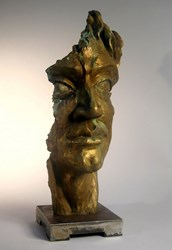 ...Motherhood Out Loud was fantastic. What a dazzling evening. Thank you so much for assembling such inspired professionals to share inspiring (funny) work…
Santa Fe, NM (PRWEB) October 23, 2013
Art Matters|Santa Fe matters in more ways than one might imagine. With the highly successful staged reading of "Motherhood Out Loud" by Janet Davidson's For Giving Productions on Saturday Oct. 19th, Casweck Galleries partnered with the Food Depot, collecting non perishable food items for needy families.
The full to capacity evening brought down the house and filled the 50 gallon drum with much needed food items. "Motherhood.." was performed by Marika Sayers, Alisia Downing, Debrianna Mansini, Alaina Warren Zachary, Christopher Dempsey, and Kelly Kiernan. David Lamb, Entrepreneur and audience member said "Janet, Motherhood Out Loud was fantastic. YOU are a Magician. What a dazzling evening. Thank you so much for assembling such inspired professionals to share inspiring (funny) work…". The evening was followed with a lively panel discussion on Art and the Family , led by Lisa Samuel of Samuel Design Group. Actors Debrianna Mansini, Kelly Kiernan and Director Janet Davidson joined Samuel in speaking to the challenges of family, inspiration, finances and creativity.
Staying with the theme of the inspired and often difficult choices artists must make, Casweck Galleries will present the works of Brant Kingman, an artist who makes his own rollers and uses house paint to cut costs. Kingman, a Minneapolis based sculptor and painter, will discuss Dream scape and inspiration on Friday, October 25th at 5:30pm in the Gallery.
Kingman maintains a 5,600 square foot studio in Minneapolis, Minnesota. Kingman trained himself by studying masterworks in the great museums of Europe after graduating from Amherst College in 1976. He lived in New York City for seven years after returning from abroad, booking 62 shows in art venues such as the prestigious PS1 now run by MOMA. After being shot in the chest in 1982, Kingman returned to Minneapolis and for 16 years maintained a studio on Lake Minnetonka. Kingman now shows his paintings and bronze sculptures in galleries across the United States and in 10 foreign countries.
The Santa Fe Gallery Association is sponsoring over 27 artist and panel discussions as well as lectures hosted in more than 17 different Santa Fe galleries and museums during the first annual Art Matters | Santa Fe is being held on the weekends of October 18-20 and 25-27, 2013. The complete list of participating galleries, events and speakers can be found on http://www.SantaFeGalleryAssociation.org.
Casweck Galleries is known for its extraordinary collection by the famed Ernest Chiriacka. Mr. Chiriacka was a famous illustrator during the heyday of illustrators, working for such great publications as SATURDAY EVENING POST, COLLIERS, and ESQUIRE. Mr. Chiriacka illustrated the ESQUIRE PIN UPS for many years and also illustrated over 550 pulp covers.
After that period was over, Mr. Chiriacka went on to great acclaim as an oil painter and sculptor, becoming known as the living Remington while he was working. Mr, Chiriacka passed near the age of 97 in 2010. Casweck Galleries is currently the only place where his great works are available for sale, although he is currently hanging in many Museums and private collections throughout the US and Europe. Casweck Galleries is located at 203 West Water Street in downtown Santa Fe, NM. 505.988.2966
Casweck Galleries will be taking non perishable food items for the Food Depot through Oct. 31st.