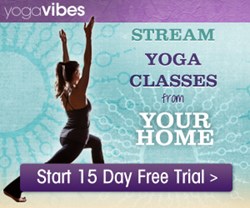 Charlotte, NC (PRWEB) October 23, 2013
Get cozy this fall with some yoga at home.
The following online yoga offerings are designed to warm up the body in preparation for whatever is coming next, be it a long trail run, a tough climb, a gnarly surf, a hardcore yoga practice, and so on.
1. A Vinyasa Warm Up with Kiyomi Takahashi
This online yoga class is quick and energizing. Practice first thing in the morning to start the day off strong or practice mid-morning/mid-afternoon for an energy boost. This uplifting flow will surely bring heat to the body and increase vitality! (19 mins.)
2. A Spine and Core Warm Up with Danielle Diamond
Warm up the spine and engage the core in preparation for a full Vinyasa yoga practice. In this free online yoga video, Danielle will share several yoga exercises to strengthen the core and align the spine to center the mind and body. (2 mins.)
3. A Shoulders & Hips Warm Up (Yoga for Dudes) with Chad Moline
Warm up the shoulders and hips in this online yoga video. Chad will teach simple shoulder openers, lunges for the hips, and twists for spinal lengthening – all great movements to practice before surfing or other physical activities. (18 mins.)
4. Warm Up the Body: A Pre-Workout Sequence with Desi Bartlett
Warm up the muscles – especially the lower extremities – to prep for a run, workout, or yoga practice. In this free online yoga video, Desi will share a Sun Salutation variation intended to counterbalance repetitive forward motion. (2 mins.)
5. Yoga for Runners with Sage Rountree
Designed for runners, this online yoga class offers simple yoga exercises to practice before a run or other physical activity. Enjoy a dynamic warm up to get the glutes firing and the lower legs ready to run. Practice alignment and concentration exercises to help sharpen focus during a run or workout. Move through longer holds of poses to stretch the quads, hip flexors, outer hips, inner thighs, and hamstrings. (23 mins.)
Stay warm, yogis!
ABOUT YOGAVIBES
Looking for the best yoga online? Look no further! YogaVibes.com is an online realm for high-quality, authentic yoga classes and instructional videos captured in a real studio with real students. YogaVibes offers a diverse selection of online yoga classes from the best yoga teachers in the world, making learning and living yoga easy in everyday life. YogaVibes' mission: To create a supportive, challenging, and welcoming online community of passionate and inspiring yogis. Join now: http://www.YogaVibes.com.