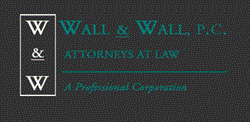 The attorneys at Wall & Wall are happy to announce that they are offering a 15% discount on all retainers.
Salt Lake City, UT (PRWEB) October 22, 2013
People make mistakes; this is a fact of life. This doesn't mean that they shouldn't have the same representation and opportunities as everybody else. Everybody deserves the right to have a lawyer help him or her through what could be the most difficult time in his or her lives.
This is why Wall & Wall Attorneys At Law PC is proud to announce that they are offering a 15% discount on their already affordable retainers, regardless of the type of case. They want to represent people in court and make sure they have someone to advocate for them throughout their legal proceedings.
Nobody should have to go through the legal process by him or herself, especially if the reason for this is because of money. Anybody convicted of a crime has a right to a public defender. However, public defenders are just that: a lawyer that is randomly assigned to a person who may have an enormous amount of cases aside from that one.
The problems with a public defender are many. As mentioned above, they have an enormous amount of cases, which can make them difficult or impossible to contact or discuss your case with. The fact that they are randomly assigned can lead to disconnect between the defender and the defendant. If your lawyer doesn't care about you or your situation, their defense will often fall flat. You don't pay a public defender; this can issues in its own right. A public defender gets paid the same amount of money whether you win or lose, this can cause an issue because there's no motivation for a defender to build the best case possible.
At Wall & Wall, they take a deep look at every case that is presented to them in order to present the best possible defense in every case. They will walk you through the process step by step and make sure you understand what is going on at all times. This discount will hopefully give somebody who may not have been able to afford an attorney before the opportunity to put their mistake behind them and go on with their lives.
About Wall & Wall Attorneys At Law PC:
Cory Wall is a partner at Wall & Wall. He and the attorneys at Wall & Wall work tirelessly to ensure that all of their clients receive the most fair and aggressive defense for their case.
Contact:
Cory Wall, Partner
Wall & Wall Attorneys At Law PC
2168 Fort Union Blvd
Salt Lake City, UT 84121
801-441-2388
http://walllegalsolutions.com/