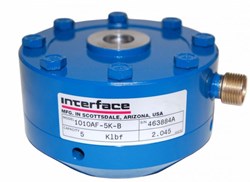 We've worked on these product improvements for over 2 years, and I am ecstatic that the results are so good. - CEO Ted Haller
(PRWEB) October 22, 2013
Interface Inc., a recognized leader in force measurement technology, is pleased to announce the improved-accuracy of its LowProfile™ load cell product line. Accuracy has improved up to 20%, for LowProfile™ models 1000, 1100, 1200, and calibration-grade 1600 force measurement load cells.
"Customers are more demanding than ever," stated Ted Haller, president and CEO. "They want to accurately measure over the full-range of the sensor. We've worked on these product improvements for over 2 years, and I am ecstatic that the results are so good. There are a lot of new aircraft flying today that use Interface's LowProfile™ load cell, and you can bet these companies and test engineers think performance and reliability are important."
The LowProfile™ load cell is the flagship product for Interface. LowProfile™ load cells are used in many applications where linearity, hysteresis, and repeatability are paramount to the accuracy performance of the load cell. Applications in aerospace are mission-critical relative to force measurements, and product reliability and performance is an absolute requirement. Medical applications are another industry where the LowProfile™ load cell performance is appreciated, ensuring that force measurement data is precise and repeatable.
"The Engineering staff worked hard on making these improvements, and I am sure they will mean a lot to the end-user of the LowProfile™ load cells in their applications", stated LaVar Clegg, VP-Engineering. "We just wanted to be sure we exceeded our customers' expectations, and our competitors' capability."
In automotive applications it's important that the design be robust and withstand the punishment of the repeated, cyclic testing. The model 1000, a load cell designed for fatigue-testing of up to 1x10E8 fully-reversed cycles, provides force data for the extended life-testing applications.
Applications include brake pedal tests; crash, road, and seat loading tests; and a large array of mechanical-cycling tests - all critical to the automobile's ride and energy-use performance.
About Interface Inc.
Founded in 1968, Interface Inc. is the worldwide leader in providing precision load cells, torque transducers, calibration load cells, and multi-axis sensor to major automotive, aerospace, medical, energy, and materials testing facilities. The Interface Gold Standard® calibration load cell is the standard used in all of the major testing & metrology labs around the world.
For more information, press only:
Ms. Michel Blake, michelb(at)interfaceforce(dot)com; 480-948-5555
For more information about Interface load cells, torque transducers, and calibration measurement, please visit our website: http://www.interfaceforce.com or about us: http://www.interfaceforce.com/about-us