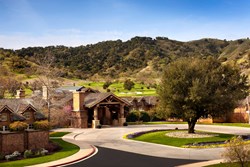 San Martin, CA (PRWEB) October 22, 2013
CordeValle, a Rosewood Resort located in the foothills of Northern California's Santa Cruz Mountains, proudly announces an exclusive new "golf and grub" getaway package. The Four for Fore Retreat Package is tailor-made for those seeking a weekend filled with superior sport on two of California's Top 10 Courses, complete with a privately catered BBQ and intimate wine tasting from the property's on-site winery, all in the comfort of one's own private home.
Guests eager to stay above par this fall will enjoy a two-night stay in CordeValle's 3,100-square-foot Fairway Homes, overlooking the Robert Trent Jones-designed championship course. By day, groups can hit the links at CordeValle and Pasatiempo Golf Club, and by night, relax along the fairway with a private BBQ cookout at their residence, catered by Executive Chef Timothy Wetzel. The experience is complete with an intimate in-residence wine tasting from the resort's on-property winery.
Accommodations are well suited for the ultimate gentlemen's golf escape. With four master bedrooms grouped around a central living area, butler's kitchen, dining room, and common patio, weekend bachelors will find their complete oasis in CordeValle's Fairway Homes – perfect for kicking back after a round of golf to enjoy America's other favorite fall pastime, Football!
The Four for Fore Retreat Package includes:

Two-night stay in a CordeValle Fairway Home
One round of golf on CordeValle's Robert Trent Jones Championship Golf course per guest
One round of golf on Pasatiempo Golf Club's Alister Mackenzie-designed course per guest
Catered in-suite BBQ cookout on private patio
Private in-suite wine tasting from on-property winery
Daily continental breakfast
Package price starts at $735 per person, per night, midweek (with a two night minimum); $850 on the weekends. This price is based on a four-room/ four-person reservation. Bookings are subject to availability.
*Additional tax, service charge, caddie and resort fee apply.
Opened in 1999, CordeValle is a golf lover's dream and the ultimate choice for a golf vacation. Its thoughtful and inspired design is situated on 270 acres of gently rolling terrain and utilizes natural elevation changes, streams and wooded areas to achieve an 18-hole, 7,360-yard, 72 par championship course that rivals some of the finest courses in the world. CordeValle most recently announced it will host the 2016 U.S. Women's Open Championship, making it the first Women's Open held in the Bay Area and the second USGA championship conducted at the property.
For more information and to book the Four for Fore Retreat Package at CordValle, a Rosewood Resort, visit http://www.rosewoodhotels.com/en/cordevalle/ or call reservations at 408.695.4562.
About CordeValle
Located in the foothills of Northern California's Santa Cruz Mountains, CordeValle is 30 minutes south of San Jose and less than an hour north of the Monterey Peninsula. CordeValle is a hidden gem that combines the extraordinary beauty of an awe-inspiring natural landscape with the convenience and hospitality of a luxury resort. The centerpiece of the 45-room resort is a 7,360-yard championship golf course, which boasts 360-degree unobstructed views. The property also features a luxury spa, 4,100 square feet of private, state-of-the-art meeting and conference rooms, tennis facility, multiple restaurants, pool and fitness center, winery and vineyard, and a 12,000-square-foot men's locker room and separate women's locker room. For more information, visit http://www.rosewoodhotels.com/en/cordevalle/ or call 408.695.4562.