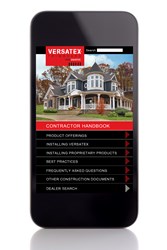 Rick Kapres, Vice Presidenet of Sales states, 'We worked hard for months to adapt and expand [our Builder's Handbook] into the kind of digital format that our customers asked us for.'
Pittsburgh, PA (PRWEB) October 22, 2013
A mobile app that shows how to install PVC exterior architectural trim has earned VERSATEX® Trimboard a platinum award in the Brand Builder competition conducted this fall by the publisher Hanley Wood, LLC.
VERSATEX Vice President of Sales Rick Kapres responded to the award, which honors "innovative and effective marketing campaigns throughout the residential and commercial design and construction industry," with warm appreciation.
"All of us here at VERSATEX are proud to be recognized for this project," he said this week. "The hard-copy version of our Builder's Handbook has been an industry standby for years, and we worked hard for months to adapt and expand it into the kind of digital format that our customers asked us for."
Complete with 10 new how-to installation videos, and downloadable free of charge via any smartphone – or online – from the mobile website http://www.versatexpert.com, the digital handbook is the first of its kind in the PVC trim industry. "It puts installation tips, video tutorials, best practices, catalog information, dealer searches and other handy features in any builder's pocket for ready reference anytime, anywhere," said Mr. Kapres.
According to Hanley Wood's Sept. 26 announcement, the competition was initiated this year to honor organizations that demonstrate "superior ability to develop, create, implement and execute marketing strategies and tactics that define excellence."
"VERSATEX is well deserving of the recognition it received. We are seeing the effects of the recovery of the housing industry take hold as companies begin to expand their marketing efforts, especially on the digital and social media fronts," said Hanley Wood vice chairman Frank Anton. "This year's competition was fantastic, and we are looking forward to continuing the awards for many years to come."
"We aim to keep expanding our use of mobile technology," said Mr. Kapres. "Our goal is to share the residential construction expertise we've gained over the years with our customers, through as many channels as possible."
About VERSATEX
VERSATEX premium cellular PVC products are manufactured by Wolfpac Technologies of Pittsburgh, Pa., where state-of-the-art facilities produce extruded shapes such as VERSATEX trimboards, sheet, bead board, moldings and prefabricated corners, and the innovative VERSATEX soffit system. Further information is posted at http://www.versatex.com.