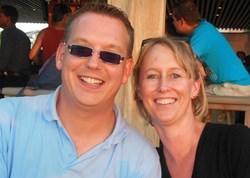 Bonaire, Dutch Caribbean (PRWEB) October 28, 2013
The Den Laman Condominiums Homeowners Association recently announced it has award the hotel management contract to Debby Rauwers and Marco Vermeulen.
Debby Rauwers grew up on Bonaire, where in 1980 her family built and operated Buddy Dive Resort. Debby was intricately involved in the operation of the resort prior to leaving for her studies at the Higher Hotel Management School in Maastricht, Netherlands. Upon completion of her studies, she returned to Bonaire and Buddy Dive, where she worked "on the floor" before working her way up to General Manager and eventually director of Buddy Dive Resort. During her tenure Debby was responsible for introducing Buddy Dive, known only to European divers, to the U.S. market. Within a three year period the resort achieved a 70% US-market demographic, and reached its peak occupancy before being sold to in 2002.
After the sale, Debby became an independent entrepreneur and founded Management Connexions, a full service corporate meeting and event management company in the Netherlands. During that period, she also conducted sales activities for Harbour Village Beach Resort Bonaire.
Marco Vermeulen has had broad experience in the travel industry. After graduating from the MTRO school for tourism and leisure in the Netherlands, he became the co-owner of a travel service company specializing in international luxury travel. After selling the company, Marco worked in the staffing industry where he set up a number of offices as director, both in the Netherlands and Poland. IN 2005, Marco returned to the travel industry as the owner of a Travel and Incentive Bureau for companies before joining Debby in 2008 as the co-manager of Management Connexions.
Debby and Marco have also jointly owned and operated La Pura Vista, a small, elegant boutique hotel on Bonaire.
"We conducted an extensive search before selecting Debby and Marco as our new management team" said Peter Gutman, President of the Den Laman Homeowners Association. "The guests who come to stay at our Bonaire ocean front complex are looking for the special attention you can only get with a small property, and we knew based on their collective experience, that Debby and Marco were the team who could offer that, and take Den Laman to an even higher level of customer satisfaction."
"Den Laman has historically achieved a high level of customer satisfaction with its guests. We plan to look for even more ways to enhance their stay, so that each and every guest will have the best vacation experience possible." said Marco Vermeulen.
Den Laman features a total of 15 fully air-conditioned units including Studios, Ocean View and Ocean Front One and Two Bedroom apartments, and one truly unique Seaside Deluxe Two Bedroom unit. All have private balconies, high-end kitchens, dining area, living areas with LCD-TV with surround sound system, DVD player and free Wi-Fi.
Bonaire Dive & Adventure, a PADI and SSI dive operation is also on property, offering a retail facility, gear rental and storage, boat diving and tanks available for diving on and off property 24/7.
Den Laman's Bonaire Dive Packages include everything guests need to enjoy the best of Bonaire by including condo, air-conditioned pickup truck, options for shore or boat diving and free Nitrox upgrades. Whether guests prefer diving or snorkeling, or simply relaxing and visiting with family and friends, Den Laman is the ideal dive resort and vacation property for those who value their creature comforts as much as they appreciate instant access to adventure and exploration.