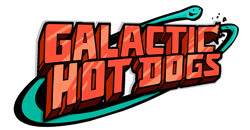 Lincoln Peirce, creator of the bestselling 'Big Nate' series, calls 'Galactic Hot Dogs,' 'an insanely entertaining, eye-popping adventure.'
Boston, Mass. (PRWEB) October 22, 2013
Kids are invited on an out-of-this-world reading adventure with today's launch of "Galactic Hot Dogs" on Funbrain. This serialized, illustrated novel from the site that debuted the bestselling "Diary of a Wimpy Kid" series online, introduces young readers to five friends who travel the universe aboard their spaceship on a mission to make the galaxy a better place.
Lincoln Peirce, creator of the bestselling "Big Nate" series, calls "Galactic Hot Dogs," "an insanely entertaining, eye-popping adventure."
When kids visit Funbrain to read "Galactic Hot Dogs," they will follow the escapades of five friends: Cosmoe the Earth-Boy, a heroic, adventure-seeking 13-year-old; Goober the Symbiotic Blob, a rubbery, shape-shifting creature who is symbiotically attached to Cosmoe's arm; Big Humphree, a hulking alien; F.R.E.D., their handy-but-grumpy little robot; and Princess Dagger, a half-evil, half-awesome princess.
"Ever since we had the good fortune to be the first publisher of the wildly successful 'Diary of a Wimpy Kid,' we have been looking for the opportunity to introduce another magical cast of characters to kids around the world," said Jess M. Brallier, publisher of Funbrain. "We found that magic with 'Galactic Hot Dogs,' a thrilling, funny, imaginative exploration of space, friendship, bad guys, young romance and the business of selling hot dogs across the galaxy – all brilliantly presented with a perfect blend of great writing and engaging art and design."
In each weekly episode, the "Galactic Hot Dogs" travel the galaxy aboard their spaceship, The Neon Wiener. Driven by Cosmoe's oath to "fight space-jerks in all their many forms" and his dedication to "slinging hot dogs" the crew of the Neon Wiener visit strange planets, battle alien monsters, dodge space pirates and generally make the galaxy a better place. Cosmoe and Humphree are best friends – and when they're not busy trying to keep an evil king from stealing their recipe for secret sauce or kicking alien butt, they're playing Astro Home Run Derby, pulling pranks and telling lame jokes.
Starting today, kids can meet Cosmoe, Humphree, Princess Dagger and Goober on Funbrain in Episode 1: Mega Dog and join the "Galactic Hot Dogs" adventure.
About Funbrain
Funbrain, created for kids age preschool through grade 8, offers more than 100 fun, interactive games that develop skills in math, reading and literacy. Since 1997, kids, teachers, librarians and parents have enthusiastically turned to Funbrain for its free educational games, online books and comics. Teachers, librarians and parents can trust Funbrain to provide a fun and safe gaming environment that bridges learning and entertainment.
Funbrain is published by Pearson, the world's leading learning company.