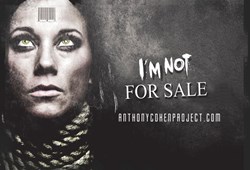 La Jolla, CA (PRWEB) October 23, 2013
The Anthony Cohen Project (ACP) announced today that they would be holding a gala on Monday, October 28, 2013 at 6 p.m. at Ferrari of San Diego in La Jolla, CA.
Human trafficking – the unlawful trade of persons for the purposes of forced slavery, forced labor or sexual abuse – is the second highest transnational crime in the world. According to the U.S. Department of State 2012 Human Trafficking Report, an estimated 800,000 people are trafficked worldwide every year, with nearly fifty percent of whom are children as young as four years old. As a respected affiliate of the ACP, it is the intent of CEO Anthony Cohen (Bridgegate Films) to continue to raise awareness to the Human Trafficking issue by actively developing a film that depicts the shocking reality of those victimized by this heinous crime.
Cohen was enraged when -after attending a recent film screening alongside Deputy Chief District Attorney Summer Stephan which supposedly was based on stories from real-life victims- seeing how this form of modern day slavery was being depicted by filmmakers and felt that its portrayal is not only inaccurate, but also irresponsible.
"Hollywood needs to take a bigger step towards producing films that do not glamorize stories such as this. Runaways and individuals who are victimized by this horrific trade need to know that support is available to them," Cohen explained.
Anthony Cohen's mission "is to produce a film that shows the lifestyle surrounding human trafficking without any of the idealized influences of Hollywood. It is guaranteed to shock, disgust and enrage audiences because it will remain pure and unfiltered- true to the victims' experiences. This film will be based on actual case files from various law enforcements around the country. I can tell you now that it will be sexually graphic and absolutely appalling to audiences. Unfortunately this is the only way for people to get the jolt and shock necessary in order to wake up and realize how horrific human trafficking really is. Some citizens know about human trafficking but tend to turn the other cheek, and hopefully their awareness will be heightened and their humanity will be challenged after viewing this film. Doing the right thing should be every citizen's duty not a leisurely choice."
Supporters who are interested in contributing to and/or volunteering for the Anthony Cohen Project can visit http://www.anthonycohenproject.com/ for more information.
Media and Press inquiries can refer to the "Media" page for appointments and/or interviews.
The ACP, founded by Anthony Cohen J.D., is a human trafficking task force dedicated to the prevention of forced free labor, sex slavery, and/or abuse among the country's youth by spreading awareness.
ACP's program also is designed to uniquely connect the tri-cities of Los Angeles, Las Vegas and San Diego law enforcements in such a way that all agencies work together to arrest, prosecute, and imprison perpetrators.
Contact
To learn more about this event, please contact
Tiffany Kieu, ACP Event Coordinator
Phone: (949) 743-4550
E-mail: anthonycohenproject(at)gmail(dot)com