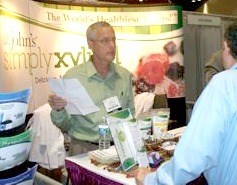 Grand Rapids, MI (PRWEB) October 29, 2013
Dr. John's Candies will be exhibiting at the ADA Annual Session in New Orleans October 31 - November 2nd, 2013, occupying Booth # 3151 at the event. Dr. John will be introducing many new products including brand new flavors of Dr. John's Simply Xylitol DecaDENTS, dental lollipops and treats made with natural flavors, colors, sweetener, and high pH products for patients with dry mouth (xerostomia).
The 2013 ADA Annual session offers a customized experience where attendees can select from 300 plus continuing education courses filled with information and ideas dental teams can put into immediate practice. Courses are suited to dental specialists, hygienists, dental assistants, business assistants and lab technicians to ensure teams will be able to maximize their time at the Annual Session.
An estimated 600 exhibitors will be featured at the World Marketplace Exhibition featuring an array of brand new dental products and forefront technology that can be explored in a hands-on fashion. Attendees will also have the opportunity to meet the visionaries of the dental industry, much like Dr. John's Candies, to discuss the latest breakthroughs, techniques, and research in their field. Networking is also a centerpiece of the event with more than 150 dental-related groups coming together to make new connections.
The 2013 Distinguished Speaker will be President Bill Clinton. The former President founded the William J. Clinton Foundation after leaving the White House. The mission of this foundation is to 'to improve global health, strengthen economies, promote healthier childhoods, and protect the environment by fostering partnerships among governments, businesses, nongovernmental organizations (NGOs), and private citizens to turn good intentions into measurable results.'
Dr. John's Candies was founded by Dr. John Bruinsma, a dentist, and his wife Debra, a dental hygienist. Introduced at the American Dental Association Annual Meeting in 1995, Dr. John's Candies soon became the best-selling sugar free candy brand offered to dentists in the US. Dr. John's Candies are available globally through the http://www.drjohns.com website. A wide variety of candies are available including healthy lollipops for kids, hard and soft candies, chocolates, gum, drink mixes, sweeteners, and more.