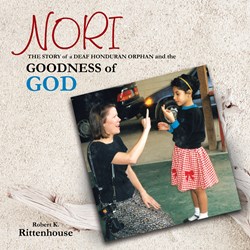 Nori was abandoned by her family, discovered by the son of the Vice President of Honduras and placed in an orphanage only to be connected with my wife, who is also deaf and a teacher of the deaf
Nashville, TN (PRWEB) October 23, 2013
Living in a country where there is little hope for the Deaf, especially the orphaned, seven -year-old Nori won the hearts of a couple, Bob and Pat Rittenhouse. Her story, however, doesn't end there.
Nori: The Story of a Deaf Honduran Orphan and the Goodness of God, told by adoptive father Robert K. Rittenhouse, follows the remarkable story of a Honduras child and her adoption by a family on a missionary trip. Through the loving support of her community and family in the United States, Nori is on track to graduate from a world-renowned college.
"Nori was abandoned by her family, discovered by the son of the Vice President of Honduras and placed in an orphanage only to be connected with my wife, who is also deaf and a teacher of the deaf," says Rittenhouse. "It's quite remarkable when you think about how perfectly and miraculously it came to be."
Through hard times and challenges, Pat and Bob brought Nori to the United States in 1996 for her first school experience. With no language, no hearing, and little structure in her life up to that point, Nori was embraced by the city of Little Rock, invested in through the Fellowship Bible Church, and "adopted" by the Arkansas School for the Deaf. Now she is about to graduate from Gallaudet University, the first school for the advanced education of the deaf and hard of hearing in the world, and still the only higher education institution in which all programs and services are specifically designed to accommodate deaf and hard of hearing students.
Nori: the story of a deaf Honduran orphan and the goodness of god
By Robert K. Rittenhouse
ISBN: 978-1-4772-8057-7
Paperback: $22.49
E-book: $3.99
Available at http://www.amazon.com and http://www.barnesandnoble.com.
About the author:
Dr. Robert Rittenhouse is the adoptive father of Nori. He is a retired university professor and missionary worker with a Ph.D. in cognitive psychology and deafness from the University of Illinois. Rittenhouse and his wife Pat have three daughters and four grandchildren and currently reside in Tennessee.