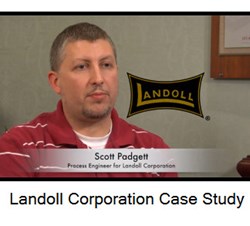 It is quite impressive to get changes made shortly after we requested them.
West Springfield (PRWEB) October 23, 2013
After researching a new cost estimating software solution, back in 2007, Landoll Corporation (Marysville, Kansas) implemented MTI Systems, Inc.'s Costimator® software to help them increase the speed, accuracy and consistency of their estimating and quoting. Since then, Landoll Corporation has continued to realize over 70% faster quoting turnaround times, as well as significantly improved accuracy and consistency in the quotes they deliver.
The Landoll Corporation designs, fabricates, finishes and markets a varied product line of light and heavy equipment in the transportation, material handling & agricultural industries. Their client list is as impressive as anyone in their industry, servicing such heavyweights such as John Deere, GMC, Snorkel, Caterpillar, Altec and Monosem. Landoll manufactures a diverse array of products including parts & components for earthmoving equipment, trailers, farming industry and tactical vehicles for the US Military. Products they manufacture include their own line of Landoll-owned trailers and tillage, Brillion tillage, Bendi forklift, Drexel forklift, and ICON earthmoving equipment.
"As our cost estimating has developed using Costimator®, by implementing and using more cost models, our estimating and quoting turnaround time, per job, continues to be reduced – saving us even more time," responds Scott Padgett, Estimator, Landoll Corporation. "Recently, I estimated a quote for a very large fuel tank that took a couple of days instead of an entire week or more. The result is, I estimated and won the quote in a matter of a few days compared to weeks or longer. This enabled us to move on to other jobs reducing costs and offering us more opportunities to quote more jobs offering options to add more profits."
MTI Systems recently released Costimator® version 12 with enhancements that offered more benefits when using "Cost Modeler, the embedded cost model editing tool. While Costimator® is shipped with over 300+ cost models, this tool enables users to create their own process/ work center specific to their times. In this update, among other added benefits, a scroll bar was recently added allowing users to view more elaborate information -- that being the details that pertain to more complex cost models."
Explore Landoll Corporation Testimonial Video Using Costimator Scott Padgett explains how the use of the cost model editing program embedded within Costimator® has helped them expand the software for their specific needs.
"After personally building and/or modifying more than 100 cost models, we began to build and structure them with more details and inputs offering more options and time savings for users," Remarks Scott. "We explained to MTI Systems our need to have the ability to scroll through these more complex models, that were significantly longer than typical cost models included out of the box and they provided the solution in their next update. It is quite impressive to get changes made shortly after we requested them."
Costimator was originally developed in 1982 and was designed to serve as a platform to make cost estimating easier for manufacturing, fabrication and mechanical assembly companies by calculating cycle time and the cost of manufacturing a part or assembly based on the capabilities of the equipment and their shop rates. As time passed, the team at MTI was able to make significant improvements to Costimator, including advanced parametric estimating, enhanced cost estimating methods, should costing, target pricing and more. This allowed Costimator to serve an even wider range of clients than before, including a wide variety of OEMs, defense & aerospace industries, medical, automotive and consumer product manufacturers.
About MTI Systems, Inc.
MTI Systems provides cost estimating, quoting and process planning software, as well as estimating services for the manufacturing industry, serving both suppliers and OEMs. Estimating solutions have been implemented at over 1,500 companies worldwide with over 12,000-trained users since its inception in 1982. For more details: contact MTI Systems, 59 Interstate Drive, West Springfield, MA 01089, 800-644-4318, or visit http://www.mtisystems.com.