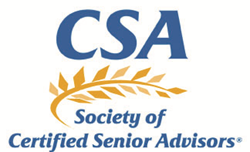 The CSA course teaches anyone who works with seniors about the strategies and tactics for working more effectively with the senior customer.
Denver, CO (PRWEB) October 22, 2013
The Society of Certified Senior Advisors (SCSA) announces a new class location for its bestselling Certified Senior Advisor (CSA) course in Phoenix, Arizona November 5-8, 2013. The CSA course teaches anyone who works with seniors about the strategies and tactics for working more effectively with the senior customer. CSA courses are held in locations around the country. See the upcoming class locations at Certification Classes.
Attendees of the CSA education course will gain the knowledge and tools necessary to work more effectively with their senior clients. This course covers why a comprehensive understanding of the unique goals and challenges facing seniors today helps to better serve and protect them. This is an in-depth class with first-rate faculty and rewarding results for both attendees and their senior clients. The CSA course coming to Phoenix will be taught by SCSA's expert instructors Jane W. Barton, MTS, MASM and David Stitt.
Jane Barton is the owner of Cardinal, LLC, a consulting firm that provides educational programs and counseling to assist people in confronting the daunting challenges posed by aging, serious illness and disability. An experienced educator, writer and speaker, Jane's expertise includes grief and bereavement, caregiving, hospice and palliative care, compassion fatigue, and spirituality and health. Previously, Jane served as Director of Education for the Life Quality Institute (LQI), where she created and presented educational programs to community members, healthcare providers, and national audiences to improve the experience of people and families challenged by serious, advanced, or terminal illnesses. She has also served as a chaplain and bereavement facilitator, and is expert at distilling complex topics into information that can be applied in everyday life.
David Stitt is Chairman and CEO of EnterAct Software, LLC, a firm dedicated to providing comprehensive financial planning tools and services to professional financial planning firms. David recently retired as the Financial Planning Specialist for the Chicago – Vrablik office of New England Financial, where he provided financial planning expertise and support for 40 representatives. The office was in the top five agencies in the U.S. for financial planning production. Before re-acquiring the Enteract software, David was Principal Technical Analyst for CCH, Inc., a company that provides leading tax and business law information and software solutions. In this role he was responsible for proprietary financial and estate planning software. During David's 30-year career in the financial services profession, he has served as a licensed tax preparer and consultant and earned the CFP® designation. David speaks nationally on subjects of financial planning and computerization and his writings are published by Prentice Hall in The Expert's Guide to Managing and Marketing a Successful Financial Planning Practice, R&R Newkirk, and in national trade publications such as Life Insurance Selling. David has also hosted a radio talk show, Money Talks.
The CSA Course will be held at the DoubleTree by Hilton Phoenix. Following the at-home study program, the optional class review will be held over the first 3 days of class. For more details on the course curriculum and comprehensive study materials, please visit Working with Seniors.
Attendees of the CSA class review have the option to sit for the CSA Exam following the 3 days of class. In order to become a Certified Senior Advisors, candidates must pass the CSA Exam in addition to meeting all certification requirements.
About SCSA
Individuals who earn and maintain the Certified Senior Advisor (CSA)® credential are entitled to become members of the Society of Certified Senior Advisors (SCSA), an organization dedicated to helping professionals understand the key health, social and financial issues that are important to seniors. Founded in 1997, SCSA offers a vast array of resources and education specifically related to issues affecting seniors.