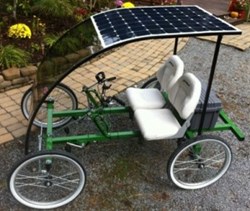 I took the two seater out for a 17 mile ride and returned with absolutely no battery drain whatsoever.
Hendersonville, TN (PRWEB) October 22, 2013
Rhoades Car International, the nation's leading 4-wheel bicycle manufacturer, today announced the release of a new model series – the Rhoades SOLARped – 100% powered by the sun.
"This is really exciting because we've been able to source a flexible, mono-crystalline, 190 watt solar panel which attaches to the existing windshield on our SportPed model," explained company president, Bill Pomakoy. "That panel is absolutely amazing because it allows the rider to keep the 24 volt battery system that runs the electric motor charged while on a ride. I took the two seater out for a 17 mile ride and returned with absolutely no battery drain whatsoever. I could have gone on for hours and hours more," added Pomakoy.
With the Rhoades SOLARped, customers can have the best of all worlds – pedal assistance when desired from the PD750 electric motor along with a powerful solar panel that keeps the batteries charged and never needs to be plugged in to a wall outlet. It's completely off-the-grid!
The Rhoades SOLARped Series is available in one and two person versions. The 1-person SOLARped P1 uses a 110 watt solar panel to charge the batteries and the 2-person, side-by-side, SOLARped P2 employs the 190 watt panel for additional power. The company plans to add a 4 person model in 2014.
"There are so many applications for this new technology," according to Phyllis Shelton, Rhoades Car Vice President of Sales. "In addition to our residential customers enjoying all of the benefits of the SOLARped, our industrial customers can enjoy the fact that they can purchase a Rhoades SOLARped for their work fleet at a much lower acquisition cost compared to a golf cart and their employees can get healthy by pedaling. Plus the annual maintenance costs are minimal for even further savings along with the incredible employee health benefits of riding a Rhoades," added Shelton.
Rhoades Car International, headquartered in Hendersonville, Tennessee, offers a unique line of four-wheel bicycles for residential and industrial use. Celebrating its 22nd year in business in 2013, the company relies on local suppliers that share the high quality craftsmanship philosophy to produce custom components for all of its 4-wheel "quad" bikes – proudly made in the USA!
For more information about the Rhoades SOLARped series, call Rhoades Car at 800-531-2737 or send an email to: info(at)rhoadescar(dot)com. Information about all Rhoades Car models is available on the company's website http://www.RhoadesCar.com. Dealer opportunities available.