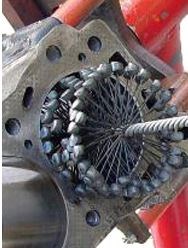 The Flex-Hone® tool is ideal for engine honing, cylinder wall deglazing, deburring, and other automotive applications.
Los Angeles, CA (PRWEB) October 22, 2013
Brush Research Manufacturing (BRM), maker of engine hones and abrasive disc brushes, is announcing plans to attend the Automotive Aftermarket Products Expo (AAPEX) in Las Vegas from November 5 to 7 at the Sands Expo Center. Visit BRM in Booth 1364 to learn how Flex-Hone® and NamPower brush tools provide superior cleaning, polishing, deburring, and surface finishing for auto parts.
Scheduled for Automotive Aftermarket Industry Week (AAIW), AAPEX will feature 2,400 exhibitors and nearly 5,000 booths. The event isn't as large as the SEMA Show, but AAPEX 2013 will connect 40,000 highly-targeted buyers with innovators and industry leaders who specialize in everything from engine parts and lubricants to batteries and brake pads.
Flexible Honing Tools for Engine Rebuilds
As this video from MotorzTV explains, the Flex-Hone® tool is ideal for engine honing, cylinder wall deglazing, cross-hole deburring, and other automotive applications. Whether mounted in a machine center or chucked in a handheld electric drill, BRM ball hones are used to clean, polish, and improve the inner diameter (ID) surface finish of auto parts. Flexible hones are also used as deburring tools.
Built with a stiff metal stem and flexible nylon abrasive filaments, BRM engine hones are self-centering, self-aligning, and self-compensating for wear. As engine builders and automotive restoration specialists regularly demonstrate, cylinder hones impart a plateau finish that promotes lubrication and reduces engine wear. Flexible honing tools or glaze-breaker hones are also used to deglaze engine cylinders.
Ball Hones for Brake Rotors and Flywheels
In addition to surface finishing engine cylinders and cylinder liners, Flex-Hone® applications include clutches and brakes, camshafts and valves, and crankshafts and piston pins. In addition to lowering harmonic vibrations, the Flex-Hone® for Rotors produces a non-directional pattern and is ideal for both new and re-turned rotors and flywheels.
Named an Undercar Digest Magazine "Top Ten Tool" eight years in a row, the Flex-Hone® is available in both fine and coarse grits. As visitors to the BRM booth (#1364) at APPEX 2013 will learn, BRM brake hones are used for both new and re-turned disc brake rotors and automotive fly wheels. Auto part applications include brake drums found on Cadillac luxury cars.
Nylon Abrasive Brushes
BRM also offers nylon abrasive brushing tools for unmatched outer diameter (OD) surface finishing. The NamPower family of high-performance brush tools includes nylon abrasive disc brushes that are used to clean threads, stabilize surfaces, and remove rust and corrosion from auto parts. NamPower abrasive nylon brushes feature moisture and chemical resistant filaments that conform closely to part contours.
About Brush Research Manufacturing
Brush Research Manufacturing (BRM), makers of a full line of flexible honing tools and automotive brushes, is located in Los Angeles, California. For 55 years, BRM has been solving difficult finishing problems with brushing technology. BRM's Flex-Hone® tool is the standard against which all other engine hones are compared. NamPower abrasive disc brushes are ideal for outer diameter (OD) burr removal and surface finish improvement.
Media Contact:
Heather Jones
Director of Marketing
Brush Research Manufacturing Co. Inc.
4642 Floral Drive
Los Angeles, CA 90022
HJones(at)brushresearch(dot)com
For Immediate Release:
http://www.brushresearch.com/
Ph: (323) 261-2193