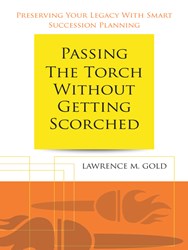 Atlanta, GA (PRWEB) October 23, 2013
When the inevitable time comes for succession within your business, will you know what to do?
"Passing the Torch Without Getting Scorched" by Lawrence Gold is an easy-to-follow resource written for business leaders who need help when it comes to succession planning.
By focusing on real-life situations and a number of different scenarios, Gold includes experiences that he has encountered through his 40+ years of experience working with family-owned businesses and entrepreneurs.
Gold covers a wide variety of topics involved with succession planning, including: the distinctions between ownership succession and management succession; differences between selling equity and giving away equity; importance of business valuations; deferred compensation and other management incentives.
"Passing the Torch Without Getting Scorched"
By Lawrence Gold
ISBN: 978-1-4918-0421-6
Retail price: $23.99 (hc)
Also available in soft cover and e-book
Available at http://www.amazon.com and http://www.barnesandnoble.com
About the Author
Lawrence Gold has practiced law for over 40 years. Lawrence joined Carlton Fields in 2004 when the firm opened an office in Atlanta. Lawrence typically works with family-owned or entrepreneurially owned businesses, which is where he gained his extensive experience in succession planning. Lawrence lives in Atlanta with his wife Margo. They have three children and two grandchildren, so far.
###
EDITORS: For review copies or interview requests, contact:
Jonathan McAfee | 317-602-7137 | jmcafee(at)bohlsengroup(dot)com
(When requesting a review copy, please provide street address.)