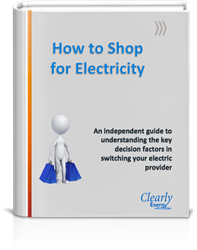 ClearlyEnergy succeeds in demystifying electricity shopping
Annapolis, MD (PRWEB) October 22, 2013
At over $1400 per year on average, electric bills are one of a household's largest expenditures, yet the ability to determine the price one pays for electricity is relatively new and limited to the eighteen States that have energy choice. Véronique Bugnion, co-Founder of ClearlyEnergy points out, "Most consumers are confused by the offers they see, fear a trap and worry about what they don't know or don't understand about this system."
ClearlyEnergy set out to demystify electricity shopping and today released a free and easy-to-follow guide for homeowners and tenants: How To Shop For Electricity.
The guide explains electricity generation, transmission and distribution with simple graphics, highlighting which parts of the electric system have competition (supply) and which do not (distribution). Myths and fears related to choosing a competitive electric supplier are addressed, including what happens to the consumer's electric bill and whether there are any fees or interruption of service when switching providers.
The guide breaks down the types of electricity offers looking at fixed term prices vs. month-to-month pricing and outlines the pros and cons of each. Much like with mobile phone plans, termination fees and introductory rates are often built into the fine print and can cost consumers if they are not on the lookout.
The free Ebook has an extended section on renewable electricity choices and what purchasing "green power" really means for consumers.
Norma Jean Autry, co-Founder of ClearlyEnergy points out, "How To Shop For Electricity fills a much needed gap in the retail choice market by helping consumers understand the ins and outs of their electricity options. The guide fits perfectly within ClearlyEnergy's vision and mission to simplify energy choices for households and small businesses."
Find How to Shop for Electricity at http://www.clearlyenergy.com/how-to-buy-power.