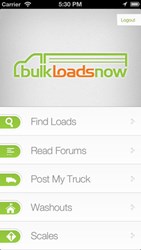 Many carriers farm or work for farmers and keep local during the fall crop season.
Nixa, MO (PRWEB) October 23, 2013
Fall harvest activity caught up to bulk truck freight capacity creating tightness across the truck freight industry. BulkLoadsNow.com, a leading load posting site for the dry and liquid freight industry, reached 35% more loads posted in the third week of October compared to the previous month. The youngest load posting site online, launched in 2011, has far exceeded projected growth and is now one of the most used online resources for bulk freight.
"Shipper and broker needs is at all time highs as many truckers get off the roads and back into the fields," said Jared Flinn, Operating Partner at BulkLoadsNow.com. "Many carriers farm or work for farmers and keep local during the fall crop season. We see more shippers struggle to move longer distance or regional loads this time of the year."
BulkLoadsNow reached over 29,000 loads posted this past week. Hopper bottom and end dump trailer loads have the largest number of postings with walking floor and live floor trailer loads next and lastly tanker. With such heavy load postings shippers and carriers can't rely on their regular carriers or just wait for loads to be picked up. Shippers who take advantage of advanced features, apps and extensive trucker databases will find carriers quicker.
Besides posting loads, shipper and broker members on BulkLoadsNow are alerted via a LEADS feature when a carrier has viewed their load. Shippers and brokers can also email groups of carriers by state, radius and equipment through the TRUCKS feature. BulkLoadsNow.com also updated their CHAT instant messenger feature to send messages to all users online at once. Meanwhile, carrier members are receiving posting alerts and checking for matches via BulkLoadsNow.com smartphone apps whether they're traveling across the country or working on the farm.
About BulkLoadsNow.com
BulkLoadsNow.com is an online community of professionals in North American's bulk freight industry. Our shipper members are transportation logistics managers of grain, fertilizer, aggregates, feed ingredients and all agriculture commodities. Our carrier members pull hopper bottoms, walking floors, end dump trailers, belt trailers, live floors, pneumatic and liquid tankers. We provide to our members the industry's most innovative bulk freight solutions including an enhanced load board, database of all carriers in North America, instant communication tools, industry forums and news updates, and much more.