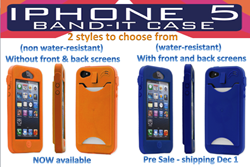 Yes, being Made in America means less profit for me and my company, but sometimes it's not all about the money.
Ozark, MO (PRWEB) October 23, 2013
After months of anticipation and requests, we are very proud to fulfill our customer's demands for a case that is equally protective and sleek in its design and functionally with the release of our iPhone 5 Band-It case on Oct. 18!
The iPhone 5 Band-It cases are protective and water-resistant. The innovative design is easily customized for a customer's personal preferences by choosing from a variety of case colors and accompanying interchangeable bands.
To further set apart its cases from competitors, a ll Bodacious Cases products are 100 percent made in America. All parts, design and manufacturing are sourced from U.S. suppliers and businesses.
"Yes, being Made in America means less profit for me and my company, but sometimes it's not all about the money. Of course I need profits to keep my company above water, but I prefer to help my fellow Americans out versus sending something over to a country that has a ton of work already," said Arianna Russell, Chief Executive Officer and inventor of Bodacious Cases.
According to Alan Uke in "Buying America Back," just one manufacturing job supports five other U.S. jobs, and shifting consumer spending by just $5 a day could return unemployment to normal levels.
At Bodacious Cases, we believe that working together, we can not only boost the American economy, but also honor those who serve our country and sacrifice their lives every day.
The iPhone 5 non-water resistant cases, starting at $39.95, (without front and back screens) start shipping today and water-resistant cases will start shipping Dec.1.
Plus, in the month of October, Bodacious Cases will donate $10 to STOMP Out Bullying for every iPhone case sold.
Established in 2003 as the signature program for Love Our Children USA, STOMP Out Bullying focuses on reducing and preventing bullying, cyberbullying, sexting and other digital abuse, educating against homophobia, racism and hatred, decreasing school absenteeism, and deterring violence in schools, online and in communities across the country.
At Bodacious Cases, we're in the business of making a difference. It's why all of our products are 100 percent made in the USA and why we support organizations like STOMP Out Bullying on things that matter.
Bodacious Cases is a cell phone case and accessories company, providing customizable, water-resistant, protective iPhone cases that are 100 percent made in America. Our innovative concept has appeared multiple times on ABC World News with Diane Sawyer and been featured in numerous other publications.
###
If you'd like more information or to schedule an interview with Arianna Russell, please call 417-582-1USA (1872) or e-mail at arianna(at)bodaciouscases(dot)com. Thank you!