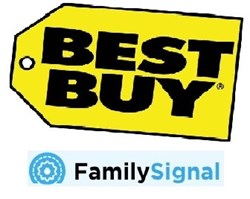 Birmingham, Michigan (PRWEB) October 22, 2013
Bestbuy.com, one of the top ten retail websites in the United States with more then 1 billion visitors each year, is now offering parents the opportunity to purchase and download FamilySignal, a service designated to protect children from cyberbullying and other Internet dangers. In light of recent events and at a time when cyberbullying is in the headlines almost daily, the world's largest multi-channel consumer electronics retailer is making a solution more readily available to families everywhere. The software monitors children's use of social network accounts including Facebook, Twitter and Instagram 24 hours a day. Parents are instantly alerted - with a simple text message and email - when their children are in danger from bullying, sex, drugs, alcohol, violence, hate and personal information so they can take immediate action.
A Growing Problem: According to experts, cyberbullying affects almost half of all teens in the U.S. For most young people today, emailing, chatting, tweeting and texting are an important part of their social lives and a form of self expression. The problem comes in when teens misuse this technology to bully, harass, and even incite violence, sometimes with tragic results. In the most extreme cases the online torment and hateful messages have been blamed for teen suicides. In many devastating instances, parents and school officials say they had no idea the damaging behavior was taking place until it was too late. FamilySignal ensures that parents are up to date and aware of what their children are posting, direct messaging, and commenting about so they can determine when there's a need to intervene.
"The Internet can be an overwhelming experience for unsupervised kids," says Brian Eisenberg, FamilySignal's co-founder and father of four. " The simplest missteps can lead to major trauma in the blink of an eye. We are extremely pleased Best Buy has agreed to make our product available on bestbuy.com to provide parents and guardians across America the ease of accessing this important service."
How it Works: There is nothing to install. Parents must be able to log in with the account(s) they want to monitor. The license is for one year of monitoring an unlimited number of children. To purchase the product, go to http://www.bestbuy.com and type in FamilySignal.