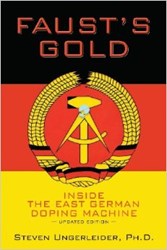 (PRWEB) October 22, 2013
Prominent sports psychologist, journalist and Childhelp supporter Dr. Steven Ungerleider has devoted proceeds from the sale of the first 5000 copies of the new edition of his book, Faust's Gold, to Childhelp.
The book investigates the systematic doping of East German Olympians throughout the last three decades of the Cold War. His recounting of the state's efforts to systematically drug 10,000 young athletes with steroids and other performance enhancing drugs implicates the highest levels of government in the German Democratic Republic and details the inner workings of the scandal that put that country's athletes at the top of worldwide sport but ultimately left thousands suffering from devastating side effects of the "vitamins" they took during training. The book stems from research conducted with an international team of investigators who had been invited in the early 1990's to look into the tragic program.
The research of Ungerleider and others into the East German doping machine has been addressed in several television productions, including the PBS special, Doping for Gold. An earlier imprint of Faust's Gold was honored as a top "sports book of the year" in Runner's World magazine.
One of the world's leading experts on performance enhancing drugs and fairplay in sport, Ungerleider has five other titles to his credit, including Mental Training for Peak Performance, which was named book of the month for Men's Health Magazine, and he serves as a consultant on a number of international sports federations. In 2009 he was asked to chair the then-new Texas Program in Sports and Media at the University of Texas, Austin.
Ungerleider, a former gymnast, also serves as a founding trustee and sits on the executive board of the Foundation for Global Sports Development, an NGO that promotes fair play, education, and the physical and developmental benefits of youth sports worldwide. Global Sports Development is the key underwriter for Childhelp Blow the Whistle on Child Abuse, Childhelp's prevention education initiative focused on preventing abuse and bullying in youth athletics.