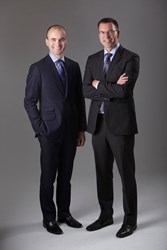 I honestly believe that I would not have received a dime from my mother's trust if not for Byron Husted and Albertson & Davidson
(PRWEB) October 25, 2013
According to court documents, Michael Milliken, a 73-year-old veteran, didn't know where to turn when his 97-year-old mother died and the Trustee of her Trust began making threats about his inheritance. Milliken lived with his mother in an apartment complex in San Diego that she owned for many years. According to court documents, as soon as Milliken's mom passed away, the Trustee allegedly demanded that he vacate the premises. The Trustee allegedly used threats and is alleged to have had a law enforcement friend demand Milliken move immediately.
Instead of moving, Milliken decided to fight back, by hiring attorney Byron Husted of Albertson & Davidson, LLP. Mr. Husted, who specializes in Trust and Will litigation, went to work securing Milliken's rights in the Trust estate.
"At one point, Mr. Milliken allegedly was told by the Trustee that he would receive nothing from his mother's Trust, even though he is a fifty percent beneficiary," says Husted, which is also reflected in court documents. After Milliken hired Husted, the matter heated up in court (case titled In Re the Florence E. Milliken Funded Revocable Intervivos Trust, dated December 15, 1983, San Diego Superior Court, case number 37-2012-00150130-PR-TR-CTL). "The Trustee hired a lawyer and tried to evict my client, we fought that and blocked the eviction until the Trust issues could be worked out," says Husted. Ultimately, the parties agreed to sell the property and split the proceeds equally.
"I honestly believe that I would not have received a dime from my mother's Trust if not for Byron Husted and Albertson & Davidson," said Milliken.
Now that the case has finally come to a close, Milliken plans to take his well-deserved inheritance and move out of state to enjoy his retirement.
Albertson & Davidson, LLP is the fastest growing Trust and Will litigation boutique firm in the Inland Empire region of Southern California. Albertson & Davidson represents clients in San Bernardino, Riverside, Los Angeles, San Diego and Orange counties. In 2013, the attorneys at Albertson & Davidson, LLP have obtained verdicts and settlements in excess of $14 million for their clients.