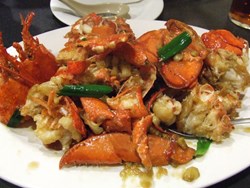 (PRWEB) October 22, 2013
The chefs at GetMaineLobster.com have once again developed a delicious lobster recipe that is as elegant as it is simple to prepare. The Holiday Pan-roasted Lobster in Exotic Mushroom Sauce is enjoyable to make and will have dinner guests singing three cheers for the cook.
Ingredients include four live Maine lobsters; 12 ounces of mushrooms, such as oyster, shitake or chanterelles; five tablespoons of olive oil; five ounces of unsalted butter at room temperature; two large cloves of garlic; three tablespoons of minced shallots; one cup of dry white wine; three tablespoons of cream sherry; and sea salt and freshly ground black pepper to taste.
Preheat the oven to 475 degrees and begin deconstructing the live Maine lobsters. GetMaineLobster.com recommends a humane method for killing the lobsters. To deconstruct, twist off the tails, claws and knuckles from the body. Then, split the tail lengthwise and crack the claws slightly. Finally, split the body and remove the intestinal tract along the length of the midsection. In a baking dish, arrange the lobster pieces in a single layer with the body and tails facing down. Sprinkle with sea salt and pepper and drizzle olive oil over each piece. Roast in the oven for eight minutes or until the shells are red and the meat is opaque.
While the lobsters are roasting, sauté the mushrooms in butter over high heat until cooked through, seasoning with salt and pepper to taste. Remove the lobsters from the oven and add the mushrooms, shallots and minced garlic into the baking dish. Pour the wine and sherry over the lobsters and add sliced butter on top of each piece. Place the dish back into the oven until the butter has melted and then stir the mixture to finish the sauce.
This dish can be served on its own or on top of a rice, risotto or pasta of choice. Take advantage of Get Maine Lobster's overnight live Maine lobster delivery and enjoy preparing this delicious lobster recipe.
Browse Get Maine Lobster's wide range of seafood offerings, access other Maine lobster recipes or view current seafood specials for delivery by visiting GetMaineLobster.com or call (866) 562-.4817. Stay updated and Like us at facebook.com/getmainelobster or follow us at twitter.com.getmainelobster.
About GetMaineLobster.com
GetMaineLobster.com, a division of Black Point Seafood and Black Point Gourmet, hand-selects the finest Maine lobster, seafood and beef products for convenient distribution throughout the United States. Their passion is to make fresh, quality seafood readily available to customers across the country, which is why they buy from only the most trusted, well-established suppliers to ensure that they receive the finest products available.
GetMaineLobster.com was selected out of the more than four million small American businesses served by Chase bank to represent its new Platinum Business Checking product for its 2013 national advertising campaign.