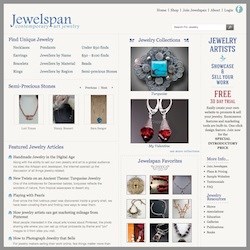 If you are a artisan jewelry designer who is ready to take your designs to the next level, Jewelspan will provide the venue and the support to help you achieve your goal.
Lambertville, NJ (PRWEB) October 22, 2013
Jewelspan.com, the only provider of websites specifically designed for handmade jewelry artists, announces their premier Jewelry Design Challenge, a call for the best in handcrafted jewelry. The competition will run from November 1 through November 30, 2013. Entries can be submitted via Jewelspan.com by clicking on "Wow-Factor Competition."
Jewelers are encouraged to submit up to 3 pieces to 'wow' the judges and for a chance to win fabulous prizes from the competition sponsors. Winners will be announced December 15th on Jewelspan.com as well as on Facebook and elsewhere.
"Jewelspan's Competition will spotlight the unique craftsmanship found in artisan jewelry. It's a great opportunity for Jewelspan members to show off their work, and we also invite all artisan jewelers worldwide to submit entries to the competition," says Eric Sparre, founder of Artspan and Jewelspan.
The jewelry design challenge is open to any category of wearable jewelry. The competition will recognize a winner as well as a runner-up and one honorable mention. The prizes are valued at over $1,500 total. Unique to the competition and garnering more exposure for the winning jeweler, Jewelspan will purchase the winning piece, and give it away in a separate Facebook contest to one lucky Jewelspan shopper.
Winners of the competition will also have their winning piece featured on the Jewelspan homepage, and will also receive a one year membership of Jewelspan which will include a full-featured easy-to-manage independent branded website.
Sponsors of the competition include names that are among the most prominent and respected ones in the field: Ganoksin.com, arguably the leading informational website and forum focusing on jewelry, Metalsmith Magazine published by The Society of North American Goldsmiths, Wubbers Tools - the premier line of tools that are "Made to Make Jewelry™" and CraftOptics - Hands-free high resolution magnification for serious jewelers.
About Jewelspan:
Jewelspan.com is home to more than 300 individual jewelry artist websites featuring a wide range of visions and materials. Jewelspan is the only handcrafted jewelry-specific website provider. The individual jeweler websites are full-featured and easy to customize and manage. Individual pieces are also featured in the Jewelspan Shop.  As a bonus, Jewelspan websites are also part of Artspan.com. http://www.Jewelspan.com.
About Artspan:
Launched in 1999, Artspan.com is a major contemporary art destination and the leading provider of premium websites for artists, artisans and photographers. Over 4,000 Individual Artspan member sites have their own domain names and can be reached by entering the domain name in the browser search window, or via Artspan Shops or by using the keyword and category searches.The user-friendly search functions, combined with the quality of the Artspan offering, has made Artspan a preferred destination for collectors, consultants, and designers. For more information, visit http://www.Artspan.com
November 1 through November 30, 2013 at 11:59 EST, artisan jewelers are welcome to enter photos of their jewelry at: http://www.jewelspan.com.
For more information, contact Regan Caton at regan(at)artspan(dot)com.