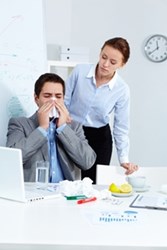 "Health products like vitamins and supplements are becoming increasingly mainstream among U.S. shoppers," said Julie McCulley, Lightning Labels' Production Manager.
Denver, CO (PRWEB) October 22, 2013
Lightning Labels, custom label and sticker printing leader, is encouraging dietary supplement manufacturers to consider whether their vitamin labels effectively communicate the information consumers are looking for to avoid getting sick this cold and flu season.
According to the Centers for Disease Control and Prevention, flu season typically reaches its strongest point during January and February, but reports of the virus can occur as early as October. With flu vaccinations already receiving an extensive amount of media coverage this fall, avoiding cold- and flu-related illnesses is top of mind for consumers. As such, they're seeking out products that can help them stay healthy, which is why supplement-makers have the opportunity to boost sales with professional, informative vitamin labels.
"Health products like vitamins and supplements are becoming increasingly mainstream among U.S. shoppers," said Julie McCulley, Lightning Labels' Production Manager. "Manufacturers can benefit from an added sales boom during cold and flu season by marketing their products effectively. With the right packaging design and custom vitamin labels, pharmaceutical and natural-remedy businesses can see their products fly off store shelves this winter."
Using Vitamin Label Printing to Highlight Products' Qualities:
By partnering with a vitamin label printing service like Lightning Labels, manufacturers can benefit from attractive, durable labels that allow them to convey the right message to shoppers. Especially during cold and flu season, relying on the best label solutions is vital for brands looking to attract new customers and maintain existing ones. Here are two suggestions for what to include on vitamin labels this season:
*Ingredient Properties: While consumers may know to look for natural products, they may not fully be aware of how these items benefit their health. For example, natural vitamins and supplements manufacturers may want to explain how ingredients like herbs and extracts support healthy immune systems and fight off viruses. For labels that contain this type of information, the design may feature images or illustrations of the ingredients. Lightning Labels' digital printing can place attractive, detailed graphics on virtually any product label.
*Symptom Relief: Consumers already affected by a cold or flu virus may turn away from over-the-counter medications in favor of herbal supplements that can remedy their symptoms. Makers of products that soothe sore throats and help alleviate congestion should accentuate these features with bold fonts and soft pastel colors.
High-Quality Vitamin Bottle Label Printing Is Key to Effective Packaging:
As manufacturers reconsider label design and the information they include in product packaging, it's important that they rely on a reputable vitamin label printing provider. Lightning Labels offers an extensive selection of sticker and label shapes, sizes and materials. Lightning Labels' digital printing process provides users with an extensive selection of colors, as well as the ability to place small, but clean and legible text on labels. This ensures vitamin and supplement bottle labels contain the information consumers look for this cold and flu season.
Lightning Labels is offering 10 percent off any label order through October 31, 2013, using promo code TREAT10 at checkout. The maximum discount is $1,000. Free ground shipping applies to regularly priced orders shipped only within the U.S. and Canada. This offer is valid on new and reorders but cannot be combined with any other offers or promotion. Visit Lightning Labels for more information or updated promotions.
About Lightning Labels:
Lightning Labels uses state-of-the-art digital printing technology to provide affordable, full-color custom labels and custom stickers of all shapes and sizes, and now offers a full line of custom packaging products. From small orders for individuals, to the bulk needs of big businesses, Lightning Labels is equipped to handle and fulfill sticker, label and product packaging projects of all types. Best of all, like the name implies, Lightning Labels provides a quick turnaround to every customers' labeling and product packaging needs. Uses for Lightning Labels' custom product labels and custom stickers include food packaging and organic food labels, wine and beverage labels, bath and body labels, and nutraceutical products, such as vitamins, essentials oils, and herbal remedies, as well as event stickers, adhesive window stickers and more. Lightning Labels strongly supports the development of environmentally friendly printing materials and carries EarthFirst PLA, a new kind of green label material made from corn instead of petroleum. While operating as a high-tech printer, Lighting Labels prides itself on its personalized customer service. Lightning Labels provides one stop shopping for all of your label and product packaging needs. For more information and to place orders online, visit LightningLabels.com. For the latest in packaging news and labeling promotional offers, find Lightning Labels on LinkedIn, Facebook, Twitter (@LightningLabels), Pinterest, Google+.