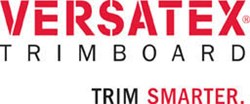 'This is an exciting partnership for us and for dealers across the South,' said VERSATEX's vice president of sales, Rick Kapres. 'We've admired the way DIXIEPLY does business for many years.'
Pittsburgh, PA (PRWEB) October 22, 2013
DIXIEPLY will distribute the full line of VERSATEX Trimboard products, such as trimboards, sheet, bead board, and moldings, and all proprietary specialty items, such as the innovative VERSATEX soffit system. One of the largest independent wholesale building-supply distributors in the U.S., DIXIEPLY has specialized in innovative products ranging from engineered wood to composite decking and hardwood plywood since 1944.
Starting in late October, DIXIEPLY distribution centers in Orlando, Ft. Lauderdale and Tampa, Fla., Nashville, Tenn., and Atlanta, Ga., will offer VERSATEX products. According to Danny Bachman, DIXIEPLY's senior VP and Co-COO, "We're excited to be partnering with VERSATEX and adding its line of PVC to our family of products.
"Throughout the process, we've been delighted to find out how much the cultures of our two companies align. Combining DIXIEPLY's industry-leading professionals and distribution capabilities with a great line of PVC trim from VERSATEX and its like-minded team will open up valuable opportunities and solutions for our customers."
"This is an exciting partnership for us and for dealers across the South," said VERSATEX's vice president of sales, Rick Kapres. "We've admired the way DIXIEPLY does business for many years, so we're honored to join the family of quality products that they've so carefully assembled.
"Our arrangement is a perfect fit," Mr. Kapres said. "Lumber dealers and building products supply companies in this part of the country say they need complete access to all of our innovative products, and there is no one more adept at serving the region than DIXIEPLY. The DIXIEPLY tradition of customer service dovetails neatly with our focus on technical support for dealers and builders alike."
VERSATEX cellular PVC products are manufactured at the state-of-the-art facilities of Wolfpac Technologies near Pittsburgh, Pa. Full details are posted at http://www.versatex.com.