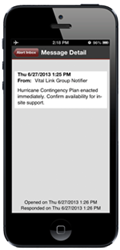 (PRWEB) October 22, 2013
Campus Televideo, a leading provider of custom cable TV, ResNet data and other telecommunications services to over 240 colleges and universities nationwide, and EAS software provider Mutare have successfully integrated their products to deliver emergency notifications through on-campus cable television Emergency Alert Systems (EAS) using FEMA adopted Common Alerting Protocol (CAP). Campus Televideo and Mutare successfully deployed this integrated solution in cooperation with St. Joseph's University, located in Philadelphia, PA.
Notification
Safety administrator's benefit from CAP Code integration by allowing them to enter a single message through one platform, and have it delivered across multiple devices, now including on-campus television systems. EAS messaging to televisions previously required accessing a separate platform, creating potential issues with delivery time and consistency.
"Our work with Mutare allows Campus Televideo to continue to roll out this critical public safety product to more campuses across the country," said Jon Stewart, Sr. Director of Operations for Campus Televideo. "We also appreciate the cooperation of our customer, St. Joseph's University, for working closely with us to successfully deploy this product and further enhance the safety of their students and staff."
"The integration of our Vital Link Platform with Campus Televideo further extends St. Joseph's University emergency notification capabilities," said Ben Crown, President of Mutare. "Student, faculty and staff safety is a top priority for our higher education clients and supporting video is a natural extension of our multi-media broadcast capabilities."
"We are very pleased that we have been able to further enhance the safety and security of our campus community," said Brian Shepherd, Director of Telecommunications for Saint Joseph's University. "We have managed to deploy a robust Emergency Notification System through our partnership with Mutare and Campus Televideo."
About Campus Televideo
Campus Televideo is a leading provider of custom cable TV, ResNet data and other telecommunications services to colleges and universities, as well as off-campus student housing. Founded in 1984, the company provides full service solutions, including programming, design, installation, maintenance and technical support, to more than 240 campuses nationwide.
About Mutare
Mutare's unified messaging, smart notification and call center services help increase sales, reduce costs and meet regulatory compliance. Mutare is what unified communications should be - fast, easy and guaranteed. For more information visit us at http://www.mutare.com.