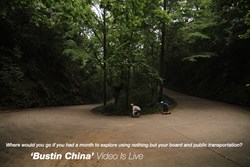 Where would you go if you had a full month to explore a country using nothing but your board and public transportation?
Brooklyn, NYC (PRWEB) October 22, 2013
It's been a busy year for Brooklyn-based Bustin Boards Company. The company, a designer and manufacturer of high-end longboard skateboards and components, has been busy designing and releasing ground-breaking products, shooting progressive skateboarding videos around the world and is now being honored as one of America's 500 fastest growing privately held companies.
Inc. 500 Award
Inc. magazine recently ranked Bustin Boards as the 465th fastest growing, privately-held company in the United States and received their award at the Inc. 500|5000 Conference & Awards Ceremony held in Washington, D.C. In addition, Bustin Boards ranked 27th among the Top 100 New York companies for revenue growth over the past three years.
The Inc. 500|5000 is an annual list that ranks companies according to percentage revenue growth over the previous three years. During this timeframe, Bustin Boards experienced a 992% growth in revenue, earning placement among the top tier companies in the country in its first year of eligibility for the ranking.
"I'm thrilled to be recognized as one of the country's fastest growing businesses but it is certainly a surprise," said Rob Perry, Global Sales Manager for Bustin Boards. "We didn't set out to win awards, we set out to make the best boards on the streets and create a fulfilling work environment at our company. We will never be satisfied in our drive to do those things but it does feel nice for all of us at the company to accept this award and be in the ranks of leading independent businesses in the United States."
Creative Marketing: "Bustin China"
In true fashion as a pioneer of progressive products and marketing, Bustin Boards' latest project involved sending three skaters for a month long journey to explore China using only public transportation and their boards. The company has just released the first 10-minute, skate-focused version of the video and is planning to release the full length documentary in early 2014.
"Where would you go if you had a full month to explore a country using nothing but public transportation and your board?" asked Jef Walker, Marketing Manager for Bustin Boards. "We asked this question to ourselves and our team and the overwhelming response was China. We thought what better place for a skate video than where new pavement meets old pavement, and what better narrative for a documentary than where new culture meets old culture."
To watch the 10-minute video, check out http://www.bustinboards.com/bustinchina.
Bustin History
Bustin Boards was founded in 2001 by Ryan Daughtridge, then a student at Syracuse University in New York. By 2004 Daughtridge was kick-starting a movement in New York City by making specialized longboard skateboards designed for commuting around the city. By 2009, the Bustin Flagship Store in Williamsburg, Brooklyn was the center of a movement that was changing the face of skateboarding and the habits of commuters in New York City.
Kids were giving up their bikes and opting for the big, soft wheels and more portable design of longboards that they could stash in their locker. Wall Street business men were picking up the low-profiled push/commuter boards and stepping out of the suit march to opt for a more exciting ride from the train to their office. And even skateboarders, who had historically balked at longboards for their unusual designs, were beginning to appreciate the practical advantage of a faster, smoother ride.
The movement was casually coined 'push culture' and though it began in New York City, it quickly caught on in cities, suburbs and college campuses worldwide. Meanwhile, other genres of longboarding such as downhill, freeride and freestyle were taking root in various cities and towns around the globe, including New York. As the sport evolved, so too did the products coming out of the Bustin Labs and Bustin brand slowly became more widely recognized around the world in almost every genre of longboard skateboarding.
"Our focus since day one has been to think outside of the box to create better products and more fun for the rider," said Daughtridge. "The sport has grown quickly but our philosophy is always 'design and ride and back inside'. No matter what the market is asking for, we never release a product until we're convinced that it is better than anything else offered."
Today products from Bustin Boards are distributed on six continents as the longboarding movement continues to spread to any place with asphalt and sunshine. The company also operates three retail locations, two in New York City and one in Hagerstown, Maryland near the site of their new distribution center.