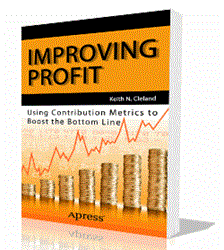 With "Improving Profit," businesses of all types and sizes will learn which products are contributing most to the bottom line and how to relate their daily efforts to a transaction's actual profitability
New York, NY (PRWEB) October 22, 2013
Businesses of all sizes are constantly looking for ways to increase efficiency and profitability. A common problem for businesses is: How do you know—in real time—whether you are earning the profit you need to grow or even to just stay in business? And which products or services are doing the heavy lifting in contributing to profit? "Improving Profit: Using Contribution Metrics to Boost the Bottom Line," newly published by Apress Media, solves this dilemma. As the book shows, Contribution-Based Activity (CBA) measures focus on two key levers that are fundamental to the operation of any business: financial contribution and units of activity.
Dr. Keith Cleland—entrepreneur, business consultant, and professor at the IBR School of Executive Management at Steinbeis University in Berlin—shows that few managers actually know the financial contribution their products and services make, nor how to amplify that contribution by incremental adjustments to one or both levers. Knowing how to use these levers gets companies off the treadmill and on their way to stellar profitability. As the book's twenty-one case studies demonstrate, CBA is surprisingly easy to apply to businesses of all types and all sizes.
Cleland's proprietary financial tool, TARI (Target Average Rate Index), provides insight into each product's value. Readers of "Improving Profit" will not only learn which products are contributing the most to their bottom line, but also how to unlock the profit potential in run-of-the-mill products or services. Business managers, directors, consultants, students, professors, CPAs, and business advisers of all types have much to gain from Cleland's clear-headed insights on making profitability reflect the hard work they do on a daily basis.

ISBN 978-1-4302-6307-4
240 pages
User Level: Beginner to Advanced
Publication Date: October 7, 2013
Available eBook Formats : EPUB, MOBI, PDF
Print Book Price : $34.99
eBook Price: $ 24.99
About the Author
The author of two books and a dozen articles, Keith N. Cleland is currently professor and head of the Financial Management Department, IBR School of Executive Management, at Steinbeis University in Berlin. Dr. Cleland's background includes seagoing as a cadet and navigating officer, consulting with an international consulting group, full professor and head of departments of accounting and business studies at three universities, chairman of private and public companies, member of the United Nations Small Business Committee on South East Asia, and co-founder of the International Christian Chambers of Commerce.
For the past twenty-five years, he has actively consulted with the accounting profession and their business clients, helping identify and provide solutions for underlying business problems, which led to the crystallization of the concept underlying contribution-based activity. These concepts have been adopted in varying degrees by numerous businesses small and large, with turnovers ranging from $250,000 to over $12 billion.
About Apress Media
With more than 1,500 books in print and e-formats, Apress is the authoritative source for IT professionals, software developers, and business leaders all over the world. Apress provides high-quality, no-fluff content that helps serious technology professionals build a comprehensive pathway to career success. Since 2007, Apress has been part of Springer Science+Business Media, one of the world's leading scientific, technical, and medical publishing houses, enabling global distribution of Apress publications. For more information, please visit http://www.apress.com.