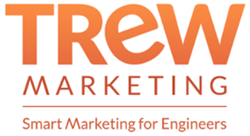 We are thrilled to be a HubSpot Certified Agency Partner. Marketing automation has become a critical component for growth-oriented companies looking to efficiently get found and convert leads online.
Austin, TX (PRWEB) October 22, 2013
TREW Marketing announced today that HubSpot named the company a Silver Level Certified Agency Partner. TREW Marketing is a full-service marketing firm uniquely serving leading companies and organizations in the engineering and science markets. HubSpot, a company that makes all-in-one inbound marketing software, recognizes the value of its certified agency partners and welcomes TREW Marketing as part of the team that is revolutionizing marketing.
"TREW Marketing continues to grow as a leading marketing agency with a passion for serving the vertical engineering and scientific markets," said Corey Beale, HubSpot Director of Sales. "We are thrilled with the company's early success incorporating HubSpot software as a key aspect of their integrated marketing approach. The sky is the limit for TREW Marketing as its team helps more and more clients grow demand for their technical products and services."
TREW Marketing's mission to "create ideas to promote the innovation of our world's technical and academic leaders" stands true - the company is consistently recognized with prestigious industry awards by organizations including BtoB Magazine's Annual list of Top Agencies, Wall Street Journal's top ten "Most Innovative Entrepreneurs", Association of Marketing and Communication Professionals (AMCP) Gold MarCom Award, BtoB Top Agencies, and the Texas Public Relations Association (TPRA).
As one of only two silver-level partners in Central Texas, TREW has attained double-digit growth every year since its founding in 2008, due in large part to its high customer retention and adoption of the HubSpot platform. More than 20 employees and key partners are a part of the TREW Crew, and the Austin-based company is on track for another record-breaking year, expecting double-digit year-over-year growth.
"We are thrilled to be a HubSpot Certified Agency Partner. Marketing automation has become a critical component for growth-oriented companies looking to efficiently get found and convert leads online," said TREW Principal Wendy Covey. "The combination of our integrated marketing approach and HubSpot software has resulted in significant growth for our clients in science and engineering, and positioned us as one of HubSpot's top partners in the region."
Click to Tweet: @TrewMarketing named @HubSpot Silver Level HubSpot Certified Agency Partner http://bit.ly/1a9NIKM
About TREW Marketing
TREW Marketing, headquartered in Austin, Texas, is a full-service B2B marketing firm uniquely serving leading engineering and scientific companies that target technical markets. TREW uses decades of specialized experience to create custom marketing programs that help customers efficiently and effectively achieve their business and sales goals. TREW takes an integrated approach using a wide array of marketing services, including market research, brand identity, product launch planning, website strategy and design, search marketing and public relations. Visit trewmarketing.com to learn more about TREW Marketing or download the company's FREE Smart Marketing for Engineers how-to guides.
About HubSpot
HubSpot is on a mission to replace the world's annoying, interruptive marketing with marketing that people love. HubSpot software is the most powerful, tightly integrated and comprehensive marketing software available, putting personalized inbound marketing into the hands of any business. Over 10,000 companies in 56 countries use our software to create lovable inbound marketing to attract, nurture and convert leads into an accelerating stream of new customers and revenue. HubSpot has been named one of the most promising, fastest growing companies by Inc, Forbes and Deloitte for the best possible reason: customer results. HubSpot has over 400 employees, was founded in 2006 and is based in Cambridge, MA. For the love of marketing, find us at http://www.HubSpot.com.