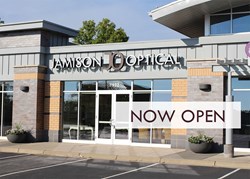 Eden Prairie now has another choice for eye care and eye wear.
Eden Prairie, MN (PRWEB) October 23, 2013
Eden Prairie now has another choice for eye care and eye wear. Jamison Optical is one of two private optometry clinics in Eden Prairie. Jamison Optical focuses on providing personalized eye care using the latest technology and features a large selection of handpicked frames.
Dr. Jamison has been in the eye care business for over 10 years. She has experience being an optician, working in lasik, private, and large retail stores. She opened Jamison Optical to give patients more. She wanted to be involved with the entire experience.
Dr. Jamison believes in giving patients the one on one attention they deserve. She wants to give a better experience than the retail environment where it is about how many patients they can see an hour. She opened Jamison Optical to build lifelong friendships and relationships with her patients to best serve their needs.
Jamison Optical services: "All Inclusive Eye Exam," Contact Lens Exam, Free Pre K Screening, Medical Eye Exam and Picture Perfect Frame Selection. They use the latest technology to take retinal photos, do visual fields testing and offer diamond cut digitally measured lenses. They use the best materials and products like top progressive lenses from Verilux and Anti-Reflective coatings from the market leader Crizal.
Jamison Optical is one of two clinics that cover VSP insurance in Eden Prairie. They also cover many other insurance plans from: VSP, Eye Med, Optum, Spectera, Medica, United Healthcare, BCBS and more.
Jamison Optical has a huge selection of frames from the best brands that includes brands you will not find anywhere else in Eden Prairie. They have frames from name brands like: Coach, Ray-Ban, Prada, Tory Burch and Silhouette. Some of their Eden Prairie exclusive brands are: MODO, Jean Reno, Kliik, Jason Wu, and Evatik.
Jamison Optical is excited to be open in Eden Prairie and offer patients a more personalized eye care experience. Learn more about Jamison Optical at their website: JamisonOptical.com, stop in to their clinic at the Loan Oak Center next to Crumb 7912 Mitchell Rd. Eden Prairie, or join them for their Grand Opening Celebration on Election Day Tuesday November, 5th 2013 from 9am to 5:30.