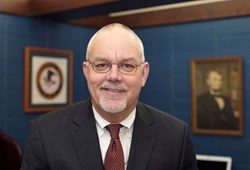 Very competent and highly professional, I strongly recommend the Brouillard Law Firm. > Erich Volkstorf > Client
Shoreline, Washington (PRWEB) October 28, 2013
Tacoma native, UW graduate, and former Assistant United States Attorney Robert Brouillard has come full circle as the respected attorney builds a law firm in North King County. Located in the Richmond Beach neighborhood of Shoreline, Brouillard Law has had a successful first year.
"I am very pleased with our progress in year one as we've brought on a number of new clients and have established our firm as a go-to law firm in Shoreline for businesses and individuals" said Brouillard from the firm's office this week. "My objective in launching this firm was not to be the biggest but to be the best; we're off to a very strong start."
Brouillard graduated from the University of Washington in 1985 and earned admittance to Willamette University College of Law where he emerged, cum laude, in 1990. After a very successful academic career, Brouillard said "I had very attractive offers in the private sector coming out of Willamette and had a tough decision to make; serve clients in the private sector or serve my country." For over two decades, his decision was the latter.
After accepting an appointment as an Honors Program Trial Attorney in the Tax Division of the Justice Department in Washington, D.C., Brouillard's vision for his future and goals for his career became crystal clear. "I decided that I not only wanted to move back to the Seattle area, I wanted to move back there as an Assistant United States Attorney" he said. Brouillard met this goal in 1997 when he accepted an appointment as an Assistant U.S. Attorney for Western Washington in Seattle.
Prior to his return to Seattle, Brouillard served as an Assistant U.S. Attorney for the Northern District of New York at Syracuse. His primary client agency during his time with the Justice Department was the Internal Revenue Service. However, Brouillard's expertise runs deep, with years practicing law in business, tax, bankruptcy, and civil matters.
"It is my commitment to be a reliable and consistent source of legal counsel to the local community and this firm will not lose sight of that core mission" Brouillard said from the firm's office just above Richmond Beach.
Robert is admitted to practice law in the State of Washington, the United States District Courts for the Eastern and Western Districts of Washington, and the United States Court of Appeals for the Ninth Circuit.
Brouillard is very active in the community. He belongs to the Shoreline Breakfast Rotary Club and the Shoreline Chamber of Commerce. He also serves on the boards of the Dale Turner Family YMCA in Shoreline and the Richmond Beach Community Association.
For more information about Robert Brouillard or Brouillard Law, people are encouraged to visit http://www.brouillardlaw.com.