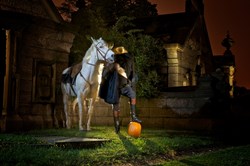 WHITE PLAINS, N.Y. (PRWEB) October 22, 2013
Westchester is truly Falltastic! Fall is a wonderful time of year to visit Westchester County, the first stop in the Hudson Valley, with annual Halloween events, culinary experiences and new facilities at historic hotels. There are exciting activities for visitors and locals alike.
"This time of year is one of our busiest seasons," said County Executive Robert P. Astorino. "Visitors come to Westchester to celebrate Halloween in the land of the 'Legend of Sleepy Hollow,' plus we have amazing food, beautiful foliage and fabulous hotels providing stunning accommodations for guests. There are so many reasons to visit Westchester in the fall."
Upcoming activities and events are highlighted below:
Visit the REAL Sleepy Hollow
If you are a fan of the FOX TV series Sleepy Hollow, enjoy festivities in the Westchester County village and experience it for yourself. A trip to Sleepy Hollow isn't complete without a visit to Sleepy Hollow Cemetery and its famous residents, including Elizabeth Arden, Brooke Astor, Andrew Carnegie, Walter Chrysler, Samuel Gompers, Washington Irving – the author of the "Legend of Sleepy Hollow" and William Rockefeller. Take an evening lantern tour and hear the stories of those buried there and the historical relevance of the village. A two-hour lantern tour will take place on Halloween, October 31; 7-10pm. Additional tours are Friday, November 1 at 7pm and 10pm; Friday November 8 at 7pm; Saturdays, November 2, 9, 16, 23, and 30 at 7pm; and Sunday November 3 at 7pm and 10pm. For more information, go to http://www.visitsleepyhollow.com. http://www.sleepyhollowcemetery.com
For a fun-filled event to celebrate Sleepy Hollow with younger children, the Old Dutch Church of Sleepy Hollow will hold Halloween Tales for Tots to Tweens. Actress, musician and master storyteller April Armstrong will tell stories (but not too spooky!) to children in the famous church. She will be accompanied by talented musician Jim Keyes during 40-minute performances scheduled for October 26 and 27 at 1pm and 3pm. This event, sponsored by the nonprofit Friends of Old Dutch, is new for 2013 and expected to become a favorite element of the Old Dutch Fest, held annually at the historic church and burying ground. Old Dutch Church is located at 430 North Broadway in Sleepy Hollow. Tickets are $9 for adults and children over 13, $6 for children 12 and under. For reservations, call 1-888-71-TICKETS or visit http://www.showclix.com/event/3777721.
More Halloween Celebrations
In Yonkers, the Cross County Shopping Center is hosting a Halloween "Spooktacular" for kids on Friday, October 25 from 4pm-7pm. Geared towards children up to age 12, the event includes a costume contest, pumpkin arts and crafts, plus a trick or treating parade throughout the center. Live music and free goodies will be part of the festivities. Children are encouraged to come dressed in their favorite Halloween costume. The Cross County Shopping Center is located at the junction of Interstate 87 and Cross County Parkway in Yonkers. For more information, visit http://www.crosscountycenter.com or call 914-968-9570.
Savor Hudson Valley
Get ready to eat, drink and discover at Hudson Valley Restaurant Week, presented by The Valley Table, November 4-17, and better than ever. The area's best chefs have fired up their kitchens and are ready to serve exceptional meals at prices that are hard to resist. From casual bistros to fine dining, visitors will experience a true taste of the Hudson Valley. Restaurant Week brings together farmers, chefs and local purveyors to support the local economy and showcase the bounty that makes the Hudson Valley a nationally renowned culinary destination. Each year, some 200,000 diners crisscross the valley to dine at participating restaurants. It's no wonder National Geographic calls the Hudson Valley a "must-see destination." During the 14 days, enjoy a prix fixe lunch for $20.95 or a prix fixe dinner for $29.95 (excludes beverages, tax and tip). No passes, tickets, or coupons necessary. Make your reservations early, and enjoy your dining adventure! For more information, visit http://www.hudsonvalleyrestaurantweek.com.
Stay & Play
As the season changes and temperatures get cooler, treat yourself to some much needed pampering in the beautiful Hudson Valley. Enjoy the new $11 million, 8,700 square-foot luxurious THANN™ Sanctuary Spa at the Castle Hotel & Spa. THANN Sanctuary Spas are known throughout Asia as oases of peace and tranquility offering a wide variety of luxurious spa treatments based on THANN's art of natural therapy, where all the senses are awakened by the unique holistic spa concept and ambience.
Castle Hotel & Spa features the rich, time-honored ambience of Old-World style and elegance with contemporary amenities and is only 25 miles north of Manhattan. Accommodations include 31 luxurious guest rooms and suites of more than 1,000 square feet each. The Castle features intricately carved stairways of dark burnished wood, glowing sconces, mammoth hand-hewn oak beams and leaded-glass windows.
Guests enjoy sumptuous, award-winning meals at Equus Restaurant (5 star) under the careful and creative direction of celebrated award-winning Chef Marc Lippman. Chef Lippman has created a uniquely modern Auberge-style, natural French- inspired cuisine based on locally sourced ingredients using the finest quality and freshest ingredients. For a complete menu of Spa Treatments offered at THANN Sanctuary Spa, visit the website at: http://www.thannsanctuaryspany.com.
For more of the latest events and happenings in Westchester, log onto http://www.visitwestchesterny.com, like us on Facebook (facebook.com/westchestercountytourism), follow us on Twitter @westchestertour or call 1-800-833-9282.
To view the Westchester County Destination Guide, please visit http://digital-editions.mediatwo.com/westchester-destination
About Westchester County Tourism & Film
Tourism & Film is Westchester County's official destination marketing organization. Its mission is to generate economic benefits by enhancing the image and promoting Westchester County as a premier business and leisure destination in the Hudson Valley region. The Tourism & Film Office in Westchester County is a Division within the County Executive's Office of Economic Development.