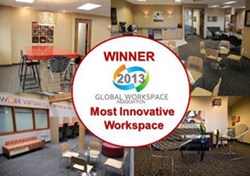 "This has been an exciting year for us as we remodeled 3 existing locations and made them into hybrid office suites, plus full coworking facilities. There are not a lot of people doing what we do!"
Minneapolis, MN (PRWEB) October 31, 2013
During the recent Global Workspace Association (GWA) Conference in Atlanta, Georgia, Lori Spiess, CEO of OffiCenters and VirtualOffiCenters was awarded top honors for the Most Innovative Workspace of 2013!
The GWA is the reorganized name of the former Office of Business Center Association International. The association represents workplace providers around the globe. Each year, the GWA honors a member that uses their creativity and innovation to bring their ideas to life - even if that is something completely out of the box. This year there were five finalist companies from Los Angeles, Miami, Washington, DC, Baltimore and Minneapolis. These entries were voted on by the membership and OffiCenters was chosen.
"I am so proud of my team." Ms. Spiess said. "This has been an exciting year for us as we remodeled 3 existing locations and made them into hybrid office suites, plus full coworking facilities. There are not a lot of people doing what we do!"
The OffiCenters workspace innovation goes beyond the cosmetics, it's about building a community. Ms. Spiess added, "We now offer networking, educational classes, after hour gatherings such as Appy Hour, new phones and technology and are just launching a member business-to-business directory. That's where we really stand out."
Another factor into OffiCenter's being chosen the winner was Ms. Spiess' fiscal approach. "When I looked at some of the entries, their spaces were gorgeous! I think the members liked that I took a 32 year old business and remodeled it to bring our clients the workspace for the future." Ms. Spiess shared. "It takes a lot of innovating to revamp an existing business. And they were very impressed that I did it on a budget. That must be my Midwestern sensibilities."
Everyone loves to see an enthusiastic winner and everyone at OffiCenters and VirtualOffiCenters is thrilled to accept the award.
OffiCenters has served the Minneapolis business community since 1981. They offer five strategically located centers offer a full range of office solutions to entrepreneurs as well as regional, national and international companies. Service packages include office space, business support services and conference facilities for use by the day, week, month or longer! Their VirtualOffiCenter plans provide professional services and meeting space while allowing for more flexibility for small or home-based businesses.