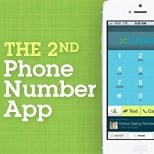 The app makes me feel safe. I now have a second number to give out that protects my personal information.
(PRWEB) October 22, 2013
"I really hope this doesn't end up with a creeper showing up on my doorstep"…This has been a legitimate concern when posting a private phone number on Craigslist or giving out a number to someone one just met when dating etc. That problem is now solved with the introduction of Funbers, a second phone number app!
Funbers was inspired by a classic Seinfeld episode where Elaine attends a party and meets a man wearing a "bad denim vest". Thinking she never wants to hear from him again, she decides to give him a fake number… only to realize later she wants to make contact.
The problem is that one can't know if the person one just met is a "keeper or creeper". Well, for Elaine and anyone else out there trying to screen 'studs from duds', meet new people or sell something online, Funbers allows users to give out a second number that they can be reached at while keeping their identity and real phone number safe.
The Funber app has a second number attached to it and lets users send and receive texts and calls inside the app without giving away their private phone number. The app is intuitive and easy to use, and it integrates perfectly with the contacts on any Android and Apple smartphone.
Also, if the person one thought had potential doesn't quite live up to expectations, or can't take a hint, a Funber can help deliver the news via a busy signal or an out of service message with the convenient block contacts feature. If the item listed online was sold, the Funber will inform the hoard of callers of the news without the user having to answer. It's brilliant!
Users can still text and call out with their private phone number. The Funber just works as a second line to your personal phone so you don't have to give out a fake number. So whether one calls it a fake number, anonymous number, disposable number, temporary number or a second number… Now anyone can enjoy the kind of phone number control and freedom that wasn't available to Elaine!
Protect confidentiality and feel safe when dating, shopping online or posting a listing on sites like Craigslist. Try it today at http://www.funbers.com
Funbers – Safety in Numbers