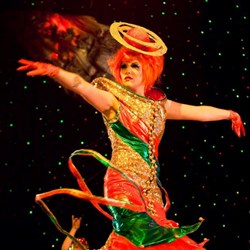 Polished, clever, and glamorous! - DITA VON TEESE
Seattle, WA (PRWEB) October 24, 2013
This year marks the 10th anniversary for Seattle's favorite burlesque super-troupe The Atomic Bombshells. Named as "Seattle's most venerable burlesque dancers" by The Stranger, these award-winning showgirls include head Bombshell Kitten LaRue, Inga Ingenue, Lily Verlaine, Ruby Mimosa, Honey D. Luxe, Miss Indigo Blue, Ivy St. Spectre, Lou Henry Hoover (the troupe's first boyshell), BenDeLaCreme, and host Jasper McCann.
Originally hailing from the sultry swamps of New Orleans, The Atomic Bombshells' award-winning co-founder, artistic director, producer, choreographer, and performer, Kitten LaRue, has been at the forefront of the burlesque scene since 2001. "I was raised on a steady diet of dance, theater, and old MGM musicals, so it's no surprise that burlesque was in my future," Kitten says. Making her debut in the legendary French Quarter Shim Sham Revue, Kitten was influenced and taught by iconic burlesque Golden Age stars, including Kitty West and Wild Cherry. "I was a baby, but I got the best training a fledgling peeler could ever ask for," notes Kitten.
In 2003, Kitten moved to Seattle with a clear vision of the burlesque performance that she wanted to share with Emerald City audiences: A show that promised high-production value, with a twinge of campiness and playful humor, professionally-choreographed dance routines, and spectacular costumes. Outrageously unprecedented for a new burlesque troupe, The Atomic Bombshells' first Seattle performance in 2003 included opening for world-renowned burlesque star, Dita Von Teese, to a packed house at the Showbox venue.
On getting the amazing opportunity to perform with Von Teese for their Seattle debut, Kitten says, "How did we swing that, you might ask? Total bluff. We hadn't even held auditions yet, but we marched right into a meeting with the bookers at the Showbox, said 'Hey, we have a fabulous troupe called The Atomic Bombshells, and here's the pitch!' We got the gig, and held auditions the next day!"
Now, in her 10th year at the helm of Seattle's burlesque super-troupe The Atomic Bombshells, Kitten is also regularly performing in New York City and abroad – as a starring member of the Bombshells, as a solo artist, and in a duet theatrical performance with real-life wife Lou Henry Hoover, titled Kitten N' Lou. This year, Kitten will make her Off-Broadway debut at Ars Nova in NYC, and will be producing and starring in an Australian tour with The Atomic Bombshells in January 2014.
About The Atomic Bombshells:
The Atomic Bombshells have taken the international burlesque scene by storm. Founded by original members of the illustrious Shim Sham Revue in New Orleans' historic French Quarter, these ladies were taught their bumps n' grinds by the original stars of burlesque's Golden Age, and have been featured in numerous publications, including GQ, Bust, Tease magazine, MTV.com, and The Huffington Post. Now the troupe brings a little Southern sizzle to the Pacific Northwest, the East Coast, and beyond with their inspired combination of vintage Bourbon St. striptease, show-stopping choreography, and MGM-era glamour.
Since their debut in 2003 at The Showbox in Seattle with burlesque superstar Dita Von Teese, The Atomic Bombshells have been in high demand, performing to packed audiences in Seattle's most fabulous venues, headlining a 30-city Camel Speakeasy Tour across the U.S.A., and wowing East Coast audiences with a yearly summer residence in legendary Provincetown, Massachusetts' celebrated theater scene. This troupe of burlesque all-stars has performed at Tease-O-Rama, the New York Burlesque Festival, and the Burlesque Hall Of Fame Weekend. Today, the Atomic Bombshells are well-known for seamlessly integrating the worlds of burlesque, drag, dance, and theatre into their production, incorporating well-known drag and dance artists with burlesque stars to create shows full of good humor and a classic style all their own.
In Seattle, The Atomic Bombshells were the first troupe to bring burlesque to the historic Triple Door venue as well as at the city's oldest vaudeville venue, Columbia City Theater, and the historic and prestigious Moore Theatre. Featured in countless local and international publications, The Atomic Bombshells have been showcased on the Emmy-Winning PBS program "Full Focus." Most recently, the Bombshells have spread their "gospel of glitter" overseas, performing sold-out events in Amsterdam, Berlin, and Shanghai, and they will be headlining an Australian tour in January of 2014. The troupe is proud to include such titles as the Burlesque Hall Of Fame's "Reigning Queen of Burlesque" 2011 (Indigo Blue), and "Miss Viva Las Vegas" 2011 (Inga Ingenue) in their ranks.
Next up for The Atomic Bombshells in Seattle is a production of "Lost in Space" at The Triple Door, November 13-16. For ticket and information: http://on.fb.me/1bPY5Tm.
# # #